Free Wi-Fi for customers in London Bridge station
London Bridge is the second Network Rail station to offer free Wi-Fi, enhancing the experience of the station users and improving travel updates…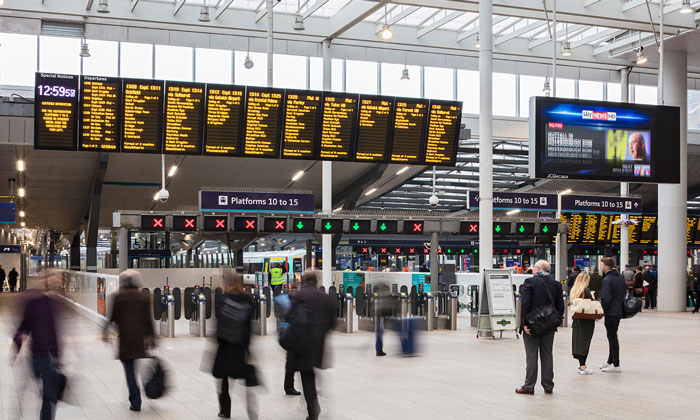 More than 56 million people use London Bridge station each year and now they all have access to a free Wi-Fi network.
Recently reopened from a £1 billion redevelopment, London Bridge station's free Wi-Fi service and content hub host features including high-speed Wi-Fi, travel updates, downloadable magazines, movie trailers, a zone for children and a retail section including a directory and offers.
The only other Network Rail station that offers the service is Euston and it has been included into London Bridge to improve the experience of passengers and station customers.
David Biggs, Managing Director of Network Rail Property, said: "Our managed stations have already grown to become destinations in their own right, where people can meet, eat and travel. Now London Bridge and Euston stations are places where they can digitally connect too.
"The latest passenger survey results show that customer's priorities for station improvements include Wi-Fi and we've seen enormous popularity with the service at Euston station since it launched in October 2016, with around 270,000 people now registered as users."
The project also aligns with the Government's ambitions around Wi-Fi and mobile connectivity across the rail industry and compliments the huge levels of improvements taking place as part of the £1 billion redevelopment of London Bridge station. Passengers are benefitting from new platforms for more trains and better connections. The project includes 92,000 sq ft of new retail, including more than 70 retail units – the most ever in a Network Rail station.
John Halsall, Network Rail's Route Managing Director for the South East, said: "Everything we do on the railway is aimed at making our passengers' journeys better, whether that is through running more trains to more places, improving reliability or the ability to log on to the internet at our newest and biggest station. The logistics of supplying Wi-Fi for 140,000 people every day are staggering and it's great to see this being rolled out."