Indian Railways receive first two locomotives from GE Transportation
The new diesel-electric locomotives will create a more reliable and efficient railway whilst reducing emissions and maintenance costs…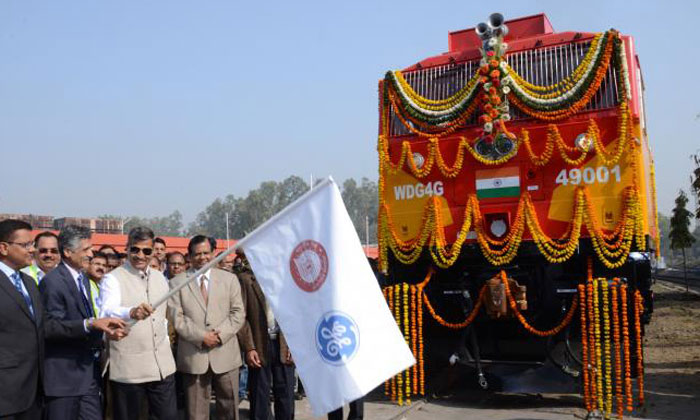 GE Transportation has announced the delivery of two 4,500-horsepower diesel-electric Evolution series locomotives to Indian Railways.
The locomotives were made under the $2.5 billion agreement signed in 2015 as part of the Government of India's Public Private Partnership 'Make in India' programme to develop and supply 1,000 fuel-efficient diesel-electric Evolution Series locomotives.
GE also unveiled the modern Roza Maintenance Shed in the Shahjahanpur district of Uttar Pradesh. The maintenance shed, built on 20 acres with an investment of $35 million, will be equipped for digital monitoring of the GE Evolution Series diesel locomotives (4500 and 6000 horsepower) and will have a modern training institute for Indian Railways pilots.
Ashwani Lohani, Chairman of the Indian Railway Board said: "The localisation aspect on this locomotive will eventually go up to 70 per cent making it a perfect example of 'Make in India'. It is indeed a historic achievement for GE, Indian Railways as well as the Northern Railways."
The 4500 HP diesel-electric locomotives use new technology to ensure higher fuel efficiency and emission compliance to international emission standard UIC1. They are also digitally enabled for predictive analytics to set new standards for reliability and availability. The locomotives were designed with consideration of basic comforts for locomotive pilots in terms of airconditioned operator cabs, noise pads for reduction in noise level, heated wind screens, urinals and digital displays.
The Roza maintenance facility will have a team of globally certified technicians and analytics-based maintenance practices will be used to deliver improved asset availability and reliability for the diesel locomotive fleet. This facility will set new standards in Indian Railways for maintenance and monitoring of diesel locomotives enabling skill development and employment opportunities.
"The timely delivery of the first two locomotives and the unveiling of the Roza maintenance shed have been made possible owing to strong commitment from the GE team in India and globally, working closely with Indian Railways," said Nalin Jain, President & CEO- International, GE Transportation.