GE Transportation completes their largest deal in Ukraine
Compared to the legacy Ukrainian fleet, the new locomotives soon to be arriving will significantly reduce harmful emissions, economise on fuel and oil costs and increase time between maintenance overhauls…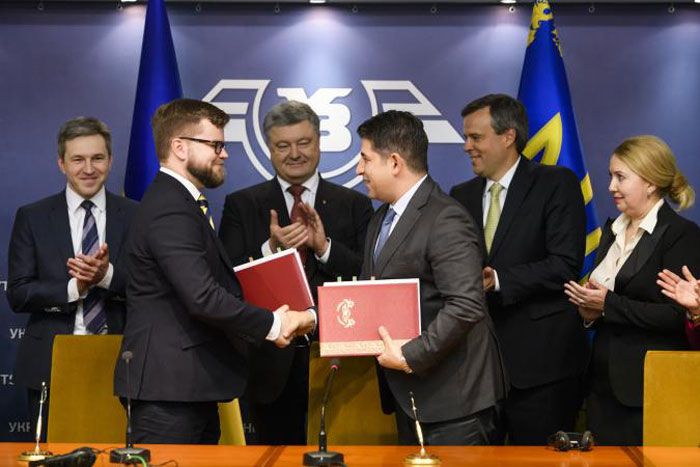 GE Transportation has signed a $1 billion framework agreement with Ukrainian Railways; the largest ever Ukraine deal for the company.
This contract demonstrates the country's commitment to modernising their transportation infrastructure and strengthening their position as a key European rail hub and trade corridor.
The agreement includes 30 GE Evolution Series freight locomotives, the rehabilitation of locomotives in the railway's legacy fleet, long-term maintenance services and additional locomotive kits over 10 years.
"We're happy that negotiations with GE progressed in just five months and led to an unprecedented agreement," said Yevgen Kravtsov, Acting Chairman of the Board of Ukrainian Railways. "After many years of inactivity, this project will launch a large-scale modernisation of Ukrainian Railway's locomotive fleet. In addition to addressing Ukraine's needs for greater capacity, this strategic partnership with GE will also provide a powerful impetus to further develop domestic manufacturing."
Locomotive production is planned to commence in the US in early 2018, with the first deliveries scheduled for the fall of 2018. In addition, certain work will be localised in Ukraine to further enhance job creation and economic development in the country.
"This deal demonstrates our expanding global customer base and can serve as a catalyst in attracting international financing and accelerating economic growth in Ukraine," said Rafael Santana, President & CEO of GE Transportation. "With this agreement, GE will play a larger role in helping the region improve its rail infrastructure and bring products to market faster and more efficiently."
The agreement continues GE's successful history of cooperation in Ukraine and illustrates Ukraine's efforts to modernise infrastructure, enhance energy security, increase access to high-quality healthcare and support sustainable development.
The 12-cylinder, 4,500 horsepower GE Evolution Series engine locomotives deliver high power output, enhance productivity, provide greater flexibility, reduce lifecycle costs and improve reliability in heavy-haul operations.