Network Rail invites bids for large-scale infrastructure contracts for next ten years
The infrastructure company that owns, manages and develops Britain's railway, has begun the process to let the next generation of track infrastructure contracts.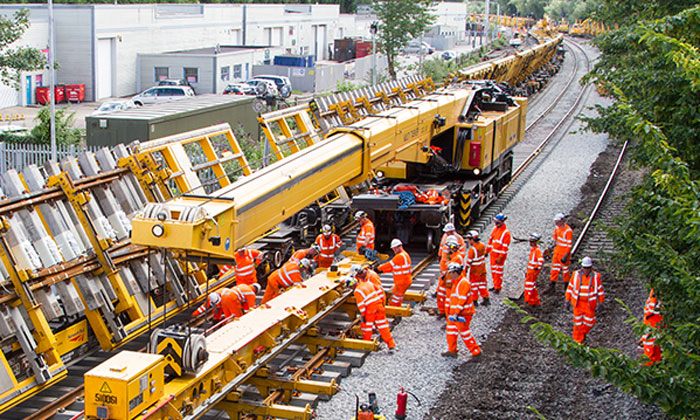 Network Rail has today issued a Prior Information Notice (PIN) via The Official Journal of the European Union (OJEU) process for its tender exercise to let the next generation of track works contracts, which is valued up to £5 billion over 10 years. The infrastructure contracts are due to start in 2019.
Network Rail invests £130 million  each week on improvements for the benefit of passengers as part of the Railway Upgrade Plan, including maintaining and renewing Britain's 20,000 miles of track. The result of this intensive spending means that, by 2019, there will be an extra 170,000 seats travelling into major cities across the country every day, with 6,400 additional train services and 5,500 new train carriages. This equates to a 30 per cent increase in capacity. Journeys will be quicker, trains will run more frequently, and levels of on-board comfort will be improved. The programme represents the largest rail modernisation project since the Victorian era.
New alliance formation
The contracts within this PIN will cover the development, design and delivery of both plain line and switches & crossings, as well as associated infrastructure works using the alliancing contract form. Three alliances will be formed between Network Rail and consortia comprising a minimum of one construction contractor and one designer. The alliances will cover three geographic areas: North (Scotland Route) covered by Alliance 1; Central (London North West, and London North East & East Midlands Routes) covered by Alliance 2; and South (Anglia, Southeast, Wessex, Western, and Wales Routes) under Alliance 3. The pre-qualification period for the tender is expected to start in May with a supplier engagement briefing for interested suppliers on Monday 23 April.
Pursuing excellence in infrastructure
A significant infrastructure investment programme will be undertaken by Network Rail over the next five-year funding period (2019-2024) known as Control Period 6 (CP6). With this in mind, Network Rail invites bids from a wide range of suppliers who can illustrate the necessary relevant expertise. Given the large scale and long-term nature of the contracts, it will be essential for prospective bidders to exhibit their commitment to delivering value through the relentless pursuit of excellence, highly innovative approaches, and a demonstrable track record of success in collaborative environments.
The implementation of these alliances aligns with Network Rail's Infrastructure Projects CP6 procurement strategy. This strategy promotes entering into collaborative style arrangements with the supply chain to offer better value for money for our devolved route customers.
Commenting on the important message that this tender represents, Steve Featherstone, Network Rail's director for track said: "This tender represents a major milestone in the development of our strategy for our track infrastructure investment programme. It also represents a significant commitment by Network Rail to the rail industry and we are expecting high levels of interest in these contracts from the supply chain. In return, we will be looking for clear and firm commitments from the supply chain to deliver value for Network Rail."
The published Track Works PIN contains full details on the tender and information of where suppliers can register their interest.