Twenty-five Coradia Lint regional trains have been ordered for Germany
Alstom has received two orders for the supply of 25 Coradia Lint regional trains in southern Germany, totalling €116 million…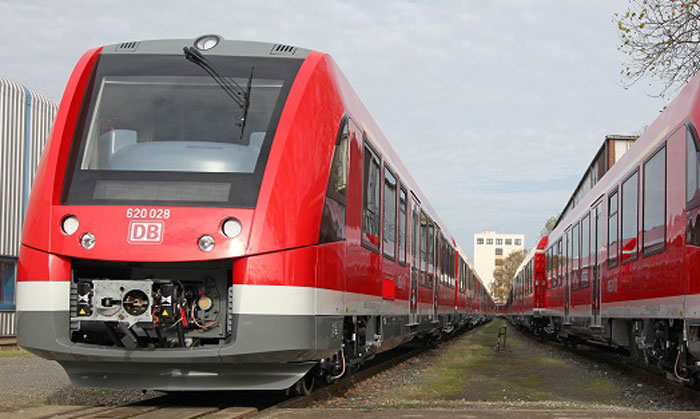 Alstom has received an order from DB Regio Bayern for 20 trains, worth €93 million and an order from Hohenzollerische Landesbahn AG (HzL) for five additional trains, worth €23 million.
All the Coradia Lint diesel multiple units (DMUs) will be manufactured in Salzgitter, Germany: Alstom's biggest production site worldwide. 
"Starting in 2019, the trains will be operating in Baden-Württemberg and from 2020 in Bavaria, improving railway transport and bringing passenger comfort to a new level," said Joerg Nikutta, Managing Director of Alstom in Germany and Austria. 
The vehicles ordered by DB Regio will operate on the 'Dieselnetz Ulm' network along routes travelling to Memmingen, Weissenhorn and Günzburg-Mindelheim. The autumn of 2020 will see the delivery of 15 trains, while the remaining five will follow in autumn 2022. 
The two different train types ordered by DB Regio can be easily coupled for enhanced operational flexibility. The fleet consists of eight Coradia Lint 41 cars which seat 125 passengers and 12 Coradia Lint 54 cars which seat 150 people, enabling quick adaptation to the volume of passengers and different routes. 
The five Coradia Lint 54 ordered by HzL for the Bodenseegürtelbahn network in Baden-Württemberg are identical to the fleet ordered by HzL in 2016 for the 'Ulmer Stern' network and will be delivered with the main fleet in June 2019. 
The low-consumption vehicles have a maximum operating speed of 140km/h with high acceleration. The two-part trains feature an entry height of around 620mm, a seating capacity of 150 passengers and 18 bicycle parking spaces. Almost every fixed seat is equipped with a table for laptops and the trains with WLAN, an entertainment and passenger information system with static and dynamic information monitors and video surveillance to ensure high passenger safety. 
Alstom's Coradia Lint trains, thanks to continuous improvements, offer high standards in terms of safety, noise and CO2 emissions and are characterised by high availability.