First Nova 1 bullet train en route to the UK after leaving Japan
TransPennine Express is introducing three fleets of new trains, including 19 new five-carriage trains harnessing Japanese bullet train technology, which will enter service in 2019…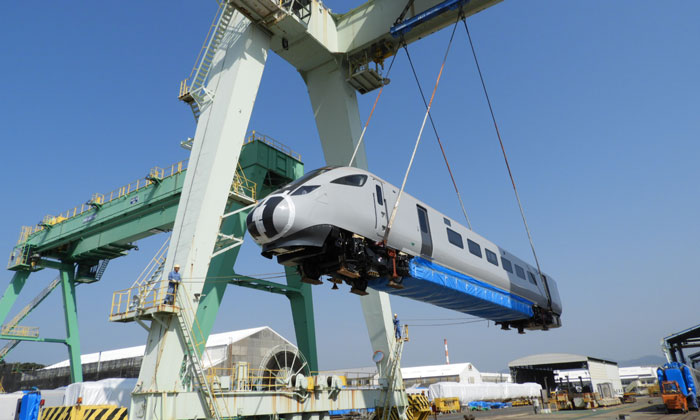 The first of TransPennine Express's new Nova 1 trains has left Japan and is expected in the UK by June 2018.
Once the train completes its shipping journey, it will be tested across northern UK during the summer of 2018 and then enter passenger service in summer 2019.
Once in operation this fleet will support the Great North Rail Project by connecting major cities in the North of England and Scotland, running from Manchester and Liverpool, across the Pennines to cities such as Leeds, York, Newcastle and Edinburgh.
The trains will provide 161 additional seats compared to the current trains on the popular intercity route. Customers will benefit from spacious carriages,  extra legroom and additional luggage space.
TransPennine Express Managing Director, Leo Goodwin, said: "TransPennine Express is delivering an investment of £500 million in the next two years in additional services, more seats and not one but three brand new train fleets."
Each new train will offer fast, free Wi-Fi in both standard and first class as well as a complimentary on-board entertainment system, Exstream, allowing customers to stream the latest movies and TV shows during their journey.
The modern Japanese bullet train inspired fleet is being built by Hitachi and through their decision to choose over 30 UK firms to supply key components, the investment is supporting thousands of jobs across the UK.
Berry Sas, Projects Director for Hitachi Rail Europe, said: "We are excited to bring Japanese bullet train technology to the North and look forward to our fleet transforming journeys on this busy route. Our decision to use British businesses to supply parts for the new trains is a multi-million pound boost to the economy, supporting jobs at production sites around the country."
Hitachi is using its famous Japanese bullet train technology to make the new Nova 1 fleet light and aerodynamic. The 19 trains will all be hybrid, meaning they can switch seamlessly mid-journey between electric and diesel power. The trains will be able to run in either five or 10 carriage formation, capable of speeds of up to 140mph in electric mode and 125mph when using diesel engines.
By using modern MTU engines from Rolls-Royce, the trains will cut harmful emissions under diesel power by up to 90 per cent.
The train's journey can be tracked around the world here as it passes through numerous oceans and continents.