RegioJet puts their new TRAXX locomotives into operation
For the first time, Bombardier TRAXX locomotives are operated on regular passenger trains in the Czech Republic and Slovakia…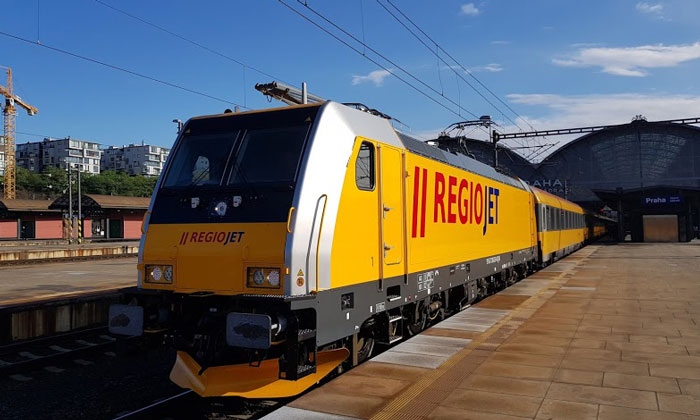 Onto the intercity service departing from Prague Main Station, RegioJet put the new multi-system locomotive into operation for the first time.
After several days of pilot operations on domestic routes, the new locomotives will be used on trains from Prague to Brno and further to Bratislava, Slovakia and Vienna, Austria.
These vehicles are Bombardier TRAXX MS2 locomotives and can travel at speeds of 160km/h. This will be the first time TRAXX locomotives have been operated on regular passenger trains in the Czech Republic and Slovakia.
Another two new RegioJet Astra train coaches, with open space interiors and entertainment touch screens in each seat, also arrived in the Czech Republic. RegioJet will take over 16 of these modern vehicles during 2018 and the first two will be put in service within the next few weeks.
The purchase of new vehicles, for long-distance and international trains, totals an investment of tens of millions of euros, corresponding to the record growth in their passenger numbers.
During the first quarter of 2018, a record 1.25 million passengers were carried by RegioJet long-distance intercity trains – a 30 per cent increase in comparison to the same time period in 2017.
The massive increase has been recorded mainly due to the entry of RegioJet trains to the new Prague – Vienna route; strengthening the train line between Prague and Brno, where RegioJet operates in each direction nine times a day.
Onto this line, the company hope to add an additional couple of trains before 2019.
Related topics
Related organisations
Related regions