Rocky Mountain Hyperloop project advances to second half of study
Virgin Hyperloop One, Colorado Department of Transportation (CDOT) and AECOM together proposed a concept for the first Virgin Hyperloop One portal near Denver International Airport…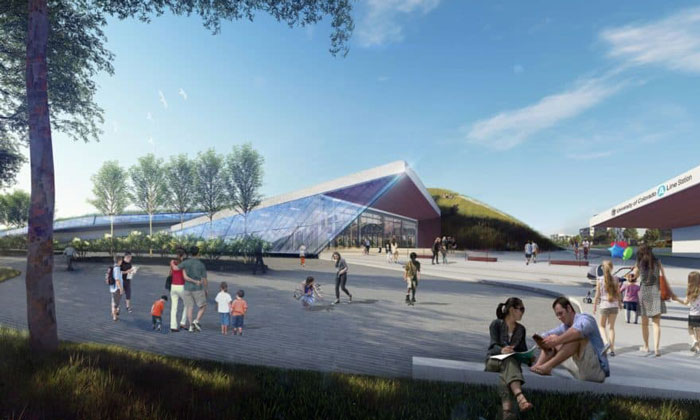 Virgin Hyperloop One, the Colorado Department of Transportation (CDOT) and AECOM have announced they are advancing to the second half of the Rocky Mountain Hyperloop feasibility study.
In 2017, the study began examining the technological and economic feasibility of a hyperloop transportation system in Colorado, based on an initial concept presented to Virgin Hyperloop One by CDOT and AECOM in 2016.
Amy Ford, Chief of Advanced Mobility for the Colorado Department of Transportation, said: "We have received some very positive feedback from interested Colorado stakeholders during and following our outreach event. To me it's apparent that Colorado citizens are interested in the safety and mobility benefits a hyperloop system could bring."
The study has developed an initial design concept for first hyperloop portal (station) located near the Denver International Airport at 72nd and Himalaya. The study will analyse multiple potential alignments to link this central point of connectivity across the Front Range as well as the mountain resorts.
"Colorado has it all, from booming sectors in aerospace, technology and renewable energy to the Rockies' natural splendour," said Rob Lloyd, CEO of Virgin Hyperloop One. "With so many drawn to the state, hyperloop will enable efficient, fast, effortless connections that link Coloradans across city limits to work, live and play."
The hyperloop will differ from other fixed guideway modes of transportation by offering on-demand solutions and no fixed schedule. Passengers will be able to depart as soon as they arrive. The system will be dynamic with the ability to deploy pods based on up-to-the-second data points that continually optimise departures and arrivals. The hyperloop portal will also integrate seamlessly with existing transportation modes like the RTD A line.
Virgin Hyperloop One, in partnership with AECOM, released an architectural rendering of the portal, located at the Denver International Airport, which features a public gathering plaza as well as subterranean, green-roof infrastructure that integrates into the landscape and emerging smart city developments.
"Through our partnership with Virgin Hyperloop One and CDOT, we are defining the next generation of infrastructure and transportation systems to address the shifting way people and freight need to move," said Travis Boone, Executive Vice President at AECOM. "The Rocky Mountain Hyperloop showcases how we imagine, partner and innovate to help define mobility of the future."
The study will offer multiple opportunities for additional partners and stakeholders, such as local governments, businesses, and community groups to become part of this venture and to help make hyperloop a reality in Colorado.