Network Rail completes two milestones ahead of InterCity Express services
Before the new InterCity Express Passenger trains can be introduced across the UK rail network, alterations to the infrastructure must occur…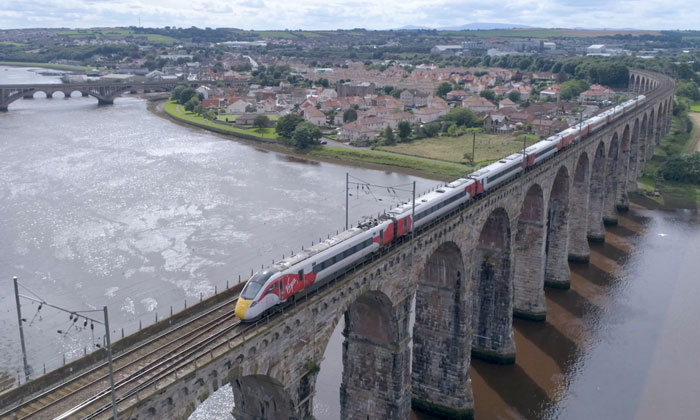 Network Rail has completed two major infrastructure milestones on the East Coast Main Line (ECML), ready for the introduction of new InterCity Express Passenger (IEP) trains later in 2018.
The first was the completion of a gauge clearance project, which means the ECML and its diversionary routes across England and Scotland have been checked to make sure the new trains have enough clearance to all lineside structures, the trains can pass other trains safely and there is enough space for railway workers to stand beside the tracks when trains pass.
As IEP trains are longer and have a different cross section to those currently in use, the gauge clearance was implemented across over 1,700 miles of the route, including 3,000 sets of switches and crossings and 800 bridges and structures. These include London King's Cross to Inverness, Aberdeen, Leeds, Hull, Harrogate, Skipton and Glasgow, as well as routes from London to Peterborough via Ely and Newcastle to Glasgow via Carlisle.
In addition, the project had to make over 40 separate modifications on the route. These ranged from the simple relocation of pieces of lineside equipment like ground signals and speed signs to bigger modifications such as demolition and reconstruction of platforms and bridges.
The second milestone was the removal of a number of electrical boosters, which are incompatible with the new trains.
Critical to the safe running and overhead line compatibility of the new trains, 35 overlap booster transformers were removed from 12 locations, ranging from Finsbury Park in London to Berwick-Upon-Tweed in Northumberland. The recycling of large booster transformers in Northumberland alone turned 1.5 tonnes of copper into a £3,000 return.
Paul McKeown, Investment Director at Network Rail, said: "These two milestones show the scale of work Network Rail is doing in readiness for the introduction of the IEP trains onto the ECML later in 2018. We're making excellent progress on our IEP readiness programme, which is testament to the hard work of our teams out on the ground. We're all excited to see the new trains introduced as they will benefit passengers by providing thousands of extra seats."