Transport companies demonstrate their expertise and new solutions
InnoTrans 2018 offers representation from Dubai's RTA, debut of the 'Ideenzug' innovation train and a programme detailing the latest trends, to name just a few aspects of the event…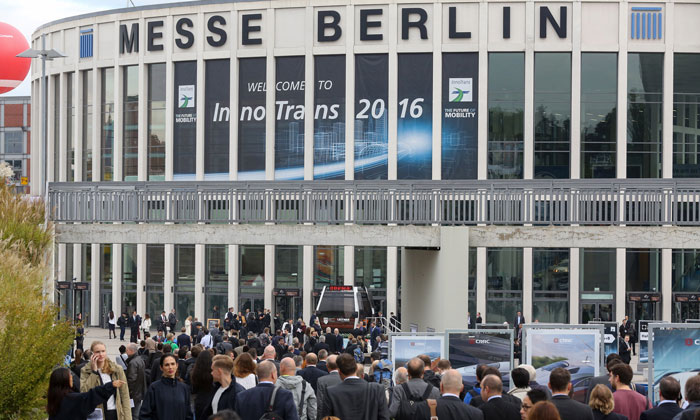 Transport companies from around the world have an exclusive opportunity to present their products, services and future mobility solutions to a global audience of experts at InnoTrans 2018.
This year, 22 transport companies are taking part, 14 of which are from abroad, including China, Dubai, Kazakhstan, Japan, South Korea and Ukraine.
KEOLIS, a subsidiary of SNCF, is a newcomer to the world's leading trade fair for transport technology and will be represented on its own stand at the CityCube in hall A with Poland's state-run rail network PKP represented in hall 16. This is the first time that a transport company is occupying an entire hall at InnoTrans.
Other companies will be at the CityCube, which is where the forward-looking Rail Baltica project coordinated by RB Rail AS can be found.
"At this year's InnoTrans, in Berlin, Germany, the Road & Transport Authority Dubai (RTA) will be represented with mobility projects that are not only intelligent, futuristic and innovative, but will play a key role at the World Expo 2020 and beyond," said H.E. Mattar Al Tayer, Director General and Chairman of the RTA board of Executive Directors. "This includes 3D printing technology, the Enterprise Command & Control Center (EC3), Route 2020, expansion of the Red Line metro system in Dubai, the Hyperloop, the Dubai Metro Green Development and the international conference on driverless vehicles, which will be combined with a competition," he added. "RTA's participation also provides a great opportunity to meet with manufacturers of trains and transport systems and to share know-how regarding rail systems in transport," said Al Tayer.
The first-time presentation of the 'Ideenzug', an innovative train, will undoubtedly be a highlight at the event. Professor Dr. Sabina Jeschke, Member of the DB Technology and Digitalisation board, said: "With our new innovative train and all-new vehicle compartment designs we aim to offer public transport customers an entirely new travel experience." This includes designs for sports, premium-class compartments as well as for work, public viewing and relaxation areas. "Digital customer information and entertainment are also important aspects," Jeschke added. "Our aim is to inspire public transport buyers and convince them to incorporate innovative and customer-oriented ideas in their future calls for tender."
The InnoTrans supporting programme will provide company representatives with a wide range of opportunities detailing experiences, new products, services and the latest trends. On 19 September at the International Design Forum, which is organised by the International Design Centre Berlin (IDZ), the focus will be on 'From Interior Visions to Extended Mobility – Innovative Transport Solutions for a Changing World'. On 20 September, the Dialogue Forum organised by the Association of German Transport Companies (VDV) and the German Transport Forum (DVF) will examine 'New mobility services plus bus and rail – How is digitization changing public transport?' whilst the Public Transport Forum will look at 'Digitalization in public transport – Aspects of the present and the future'.
Related topics
Related regions
Related people