Elon Musk's Boring Company wins bid for Chicago O'Hare Express Loop
The Chicago O'Hare Express Loop will see passengers shuttled between Chicago's Central Business District and the airport on electric skates travelling between 125mph and 150mph…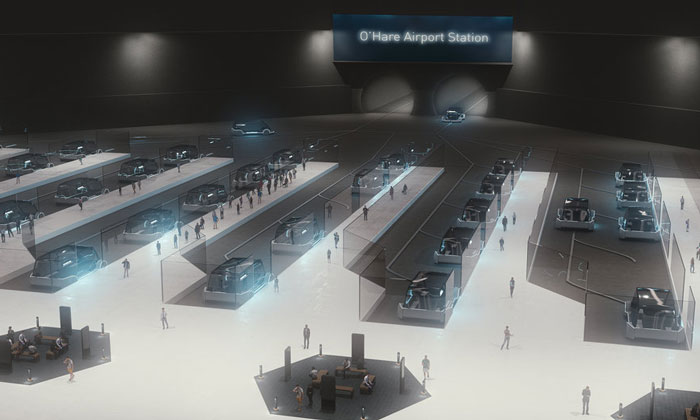 The Boring Company, owned by Elon Musk, has won the rights to design, build and operate a high-speed express line from downtown Chicago to O'Hare International.
The Chicago Infrastructure Trust chose The Boring Company from a shortlist of four groups, which had all been given a brief detailing a proposal that must demonstrate travel times between the airport and a 'downtown station' of 20 minutes or less, with a frequency of at least one service every 15 minutes.
The Boring Company's design boasts journey times of 12 minutes from Block 37, an unfinished underground transit station in downtown Chicago, three to four times faster than currently available, with a service as frequent as every 30 seconds.
The plan involves tunnels running underneath the city for 14 miles. Instead of a train, passengers will ride in electric shuttles, called 'skates', which will carry between eight and 12 occupants each and travel at 125mph-150mph.
"Bringing Chicago's economic engines closer together will keep the city on the cutting edge of progress, create thousands of good-paying jobs and strengthen our great city for future generations," Chicago Mayor, Rahm Emanuel, said. "This transformative project will help Chicago write the next chapter in our legacy of innovation and invention."
The O'Hare Express service will be funded solely by project-specific revenues and financed entirely by the developer. No taxpayer funding will go towards the project.
During the negotiation phase, the company will be required to further develop its plans and ensure they meet all necessary safety, construction, financing and operating requirements. The contract will include protection to ensure taxpayers are protected against any costs incurred by an incomplete project. The overall project costs and construction timeline will be finalised during this process.
The current daily number of air passengers travelling between O'Hare and the Chicago Central Business District is approximately 20,000 and is forecast to grow to at least 35,000 in 2045. The express service, a zero-emission system, will help meet this passenger growth, reduce congestion and generate a significantly positive environmental impact.