New trains for the Liverpool City Region achieve key milestone
To be introduced on to the UK's Merseyrail network from 2020, the new fleet of Stadler trains has reached a highly significant point in the manufacturing process, with the first car-bodies nearing completion and final assembly about to begin.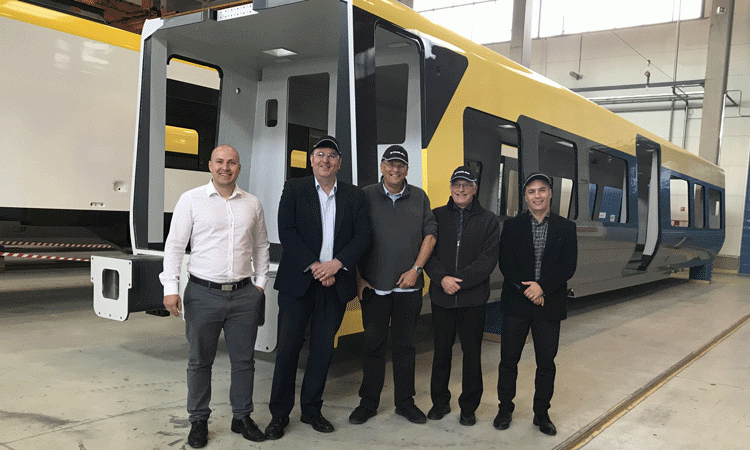 From left to right: Matthias Hämmerle (Commercial Project Manager, Stadler) David Powell (Programme Director, Merseytravel) Chris Hanson (Engineering Manager, Merseytravel) Rob Hurst (Merseyrail) Fadi Khairallah (Technical Project Manager, Stadler)
By the end of September 2018, the car-bodies will start being transported to Switzerland, where all components will be attached to form the complete trains.
Final assembly involves fitting the bogies, equipment cases, piping, wiring, flooring, windows, seats and other internal fixtures. Initially, this work will be conducted in Altenrhein in Switzerland only, but from March 2019, it will also take place in Siedlce in Poland.
For the first six units, a single car-body will be dispatched each week. After that, it will be four car-bodies per week until the process is complete. Car-bodies for the first four trains will go to Altenrhein and those for the fifth, to Siedlce. Thereafter, they will alternate between the two locations.
Car-body production has been taking place since June in Szolnok in Hungary, where they are being machined, welded, sandblasted, given anti-corrosion protection and finally painted.
Manufacturing of the first train is expected to be complete by early-2019, ahead of extensive static testing. The first train will then be taken to the Liverpool City Region for dynamic type-testing on the Merseyrail network, scheduled for summer and autumn of 2019.
Meanwhile, progress is being made on the depot at Kirkdale in preparation for the new trains. Piling of the new maintenance-shed was completed in August 2018, with foundation-work beginning a few weeks ago. The steel frame is currently being built and the track-bed is being prepared, including traction power upgrades. The steel frame, cladding and roof for the new office building have now been built, and the internal walls and fittings are all taking shape.
David Powell, Rolling Stock Programme Director at Merseytravel, said: "This is a very significant milestone on the journey towards the introduction of Merseyrail's new fleet of trains. We have just completed the 'First Article Inspection' of the bodyshells for our first new train. The quality of the product produced at Stadler's Szolnok plant fully meets Merseytravel's expectations and they are now ready for transportation to Switzerland where assembly will get underway."
Andy Heath, Managing Director at Merseyrail, concluded: "The new fleet project is progressing with some real momentum now as we get closer to these state-of-the-art trains arriving on to the network and the production of the first car-body is a significant milestone. Our network is also preparing for the arrival of the new trains with platform upgrade works commencing from 20 October 2018, to prepare them for the sliding step that will provide unassisted access for all of our passengers. The mock-up of the new train is giving the City Region an opportunity to see what they can expect in 2020 and I look forward to seeing the real car-body continue to come together."
Project Manager, Fadi Khairallah from Stadler, said: "We're entering a very exciting stage in the project now, with trains really starting to look like trains. The mock-up, which will be on display in the Liverpool City Region till November, will hopefully have inspired Merseyrail passengers, and these photos are another indicator that the fleet is progressing apace."
Related topics
Related regions
Related people