PLPR-equipped trains help to almost double track maintenance capacity
As well as benefitting passengers, PLPR provides a safer method of track inspection by reducing unnecessary track visits and helping to get boots off the ballast.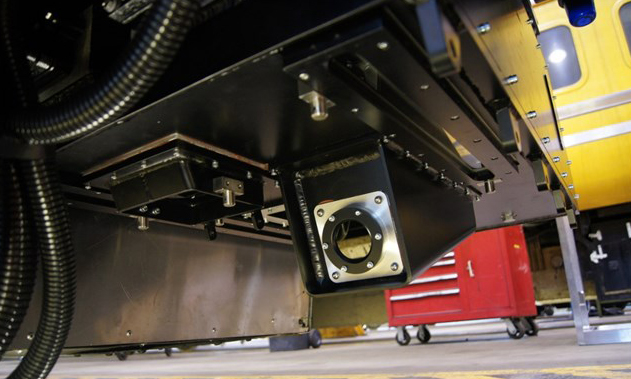 PLPR camera
Network Rail has boosted its capacity to identify and fix track defects using Plain Line Pattern Recognition (PLPR) technology; reducing delays caused by track faults, improving safety and saving the taxpayer millions of pounds.
As a key part of Network Rail's 'predict and prevent' strategy, this is helping to deliver a safer and more reliable railway for the 4.8 million passengers who rely upon it every day.
Over Control Period 6, PLPR will cover almost one million (975,000) miles of railway track across Britain.
A fleet of five monitoring trains, including the New Measurement Train (NMT), use PLPR to monitor and record track condition information, and can find issues such as missing fasteners, excess ballast and ineffective rail clamps. Cameras mounted underneath the trains capture an image every 0.8mm, taking 70,000 images per second at the top speed of 125mph, with any potential defects identified sent to a PLPR facility in Derby for closer examination. Local track section managers are then notified of confirmed defects, enabling engineers to target track maintenance more effectively.
PLPR-equipped trains have replaced manual inspections on 8,500 miles of track, improving the accuracy and frequency of inspections. With the potential to reach 15,000 miles, the aim is to increase these live inspections – a target has been supported by the opening of a second PLPR facility in Derby in January 2019.
PLPR also represents an efficient use of public money, having saved the taxpayer an estimated £2.2 million so far, with further savings anticipated over CP6 and beyond.
Steve Quinby, Network Rail's Head of Delivery [Data Collection] for Asset Information Services, said: "Operating a safe and punctual railway network spanning 20,000 miles, on which 4.8 million people rely each day, is a significant responsibility. PLPR technology is helping us meet that challenge, providing improved asset information so we can better understand how quickly our assets degrade, and allowing us to target track maintenance more effectively. This means we can identify defects before they become a safety issue or affect performance.
"PLPR is fundamental in helping us to be safer and more efficient. In January 2018, we opened a second PLPR facility in Derby that increases our capacity and resilience to monitor, inspect and fix track faults, to the ultimate benefit of passengers."