Mainline testing of UK's first hydrogen train gets green light
HydroFLEX, the UK's first hydrogen train, is to be tested on the mainline railway.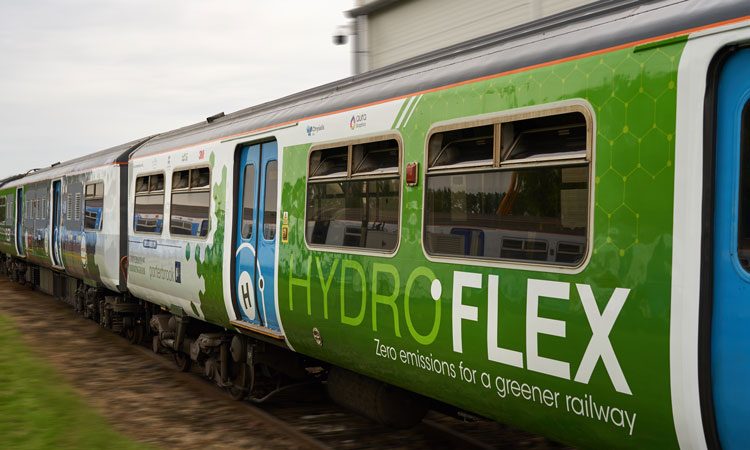 The HydroFLEX pilot involves the fitment of a hydrogen powerpack to an existing Class 319 train, making it capable of operating in self-powered mode, without the need for a diesel engine. Significantly, the HydroFLEX would also retain the ability to operate across existing electric routes (on either 3rd rail or 25kV overhead power). This results in a highly flexible train that could operate on different parts of Britain's rail network.
Porterbrook and the University of Birmingham's Centre for Railway Research and Education (BCRRE) made the announcement following a successful proof-of-concept.
The mainline testing of HydroFLEX marks an important step in the development of a zero-carbon emission propulsion system that could help to decarbonise Britain's railway. In February 2018, plans to scrap every diesel only powered train by 2040 were announced by the UK's Minister of State for the Department for Transport, Jo Johnson, calling on rail authorities to move towards alternative energies in a bid to cut rail pollution.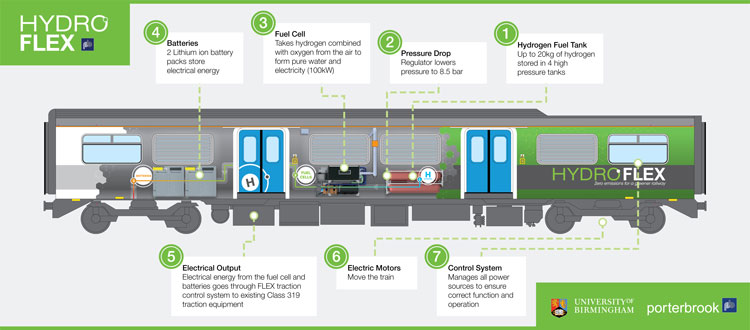 "We have been very pleased with how the train has performed on the test track and are looking forward to getting it out on the national rail network," commented Helen Simpson, Head of Innovation and Technical Services at Porterbrook. "Demonstrating how mainline approvals for hydrogen can be delivered is the next step forward and allows more people to see the benefits of hydrogen."
Alex Burrows, Director at Birmingham Centre for Railway Research and Education, stated: "Key to this success is the close partnership between academia and industry which has enabled us to pool the expertise needed to rapidly progress this technology from concept to full-scale working demonstrator."
Many collaborators have been key to the success of HydroFLEX so far: Chrysalis Rail for installation, Denchi Group for traction batteries, Ballard Fuel Cell Systems for the fuel cell, Luxfer for hydrogen storage tanks, DG8 design support, Derby Engineering Unit for panels and brackets, SNC Lavalin for design and hazard identifications, Aura for exterior livery design and dB Cargo Crewe for the recommissioning of the unit.
The HydroFLEX project has recently been awarded funding from Innovate UK through its First Of A Kind competition to take the prototype forward towards mainline testing. The same funding competition has enabled a partnership between South Western Railway, Porterbrook and Eminox Ltd to create a catalyst converter for diesel trains.