More must be done to promote women in rail says MP
Chi Onwurah MP, has issued a rallying cry to the rail industry ahead of International Women in Engineering Day, stating that 'more needs to be done to promote women in engineering and in rail more widely.'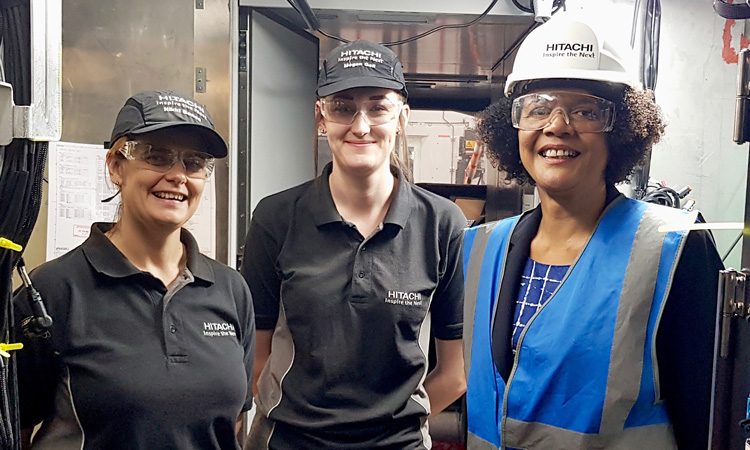 Onwurah has long been vocal about the need for diversity in the sector, serving as Chair of a cross party group of MPs on Diversity & Inclusion in STEM (science, technology, engineering and mathematics) disciplines. To mark International Women in Engineering Day, Onwurah visited Hitachi Rail's manufacturing and assembly plant in Newton Aycliffe, and met with young female engineers to hear their experiences and share insights from her own career.
The visit was part of the Railway Industry Association (RIA) Rail Fellowship Programme 2019, which showcases the work of the UK rail supply chain by encouraging parliamentarians and influencers to gain hands-on experience in the industry. Onwurah joins Sir Patrick McLoughlin MP, former Transport Secretary, and Lilian Greenwood MP, Chair of the Transport Select Committee, alongside a host of cross-party parliamentarians as a member of the RIA Rail Fellowship.
Chi Onwurah MP, said: "As an engineer myself I have first-hand knowledge of the benefits diversity brings to the industry, and the importance of ensuring that everyone feels included and empowered to succeed.
"I strongly support the work of Hitachi Rail and other organisations in taking diversity seriously and putting practical initiatives in place to ensure progress. So it was great to see the work they do to promote diversity at their Newton Aycliffe site, as part of the RIA Rail Fellowship Programme.
"Overall, I firmly believe that more needs to be done to promote women in engineering and in rail more widely, and I am passionate to help achieve this however I can. Ahead of International Women in Engineering Day, I call on the industry to redouble its efforts to increase diversity in the sector."
Darren Caplan, Chief Executive of the Railway Industry Association, said: "Chi Onwurah MP is right in calling for the rail industry to work even harder to get a new and diverse mix of people into the sector.
"Rail is a fantastic industry to work in. It provides stimulating and fulfilling jobs that serve the UK by supporting economic growth and investment. So we must be doing all we can to bring new people in, whatever their gender, race, sexuality or background, and encourage as much diversity of thinking as possible in the sector.
"It has been exciting for the Railway Industry Association to partner with RIA members like Hitachi Rail to show supportive MPs like Chi Onwurah the work the rail industry is doing to further this agenda. I'd like to thank her for taking part in the RIA Rail Fellowship Programme, and for using the opportunity to highlight such an important issue to both policy makers and influencers, and the sector more widely."
Karen Boswell, Managing Director, Hitachi Rail, said: "It is an absolute pleasure to host an MP who shares my passion for increasing diversity in engineering and the rail sector. Having a diverse workforce spurs creativity, innovation and high performance, and women are critical to this diversity mix.
"Increasing diversity at Hitachi Rail is a key priority to help our business grow. We are doing this through a number of initiatives, including 'women-only' open days at the factory to promoting STEM with primary school students to combat gender bias when female students pick subjects at secondary school. Although I am pleased to say we are making progress, there is still a tremendous amount more that needs to be done across the sector to inspire the next generation of female rail engineers. MP visits like today help to raise awareness of this important issue."