RegioJet expands capacity on Prague – Kosice overnight trains
Funds from the sale of bonds sees RegioJet investing in its fleet with additional vehicles to support growing passenger numbers on its long-distance train services.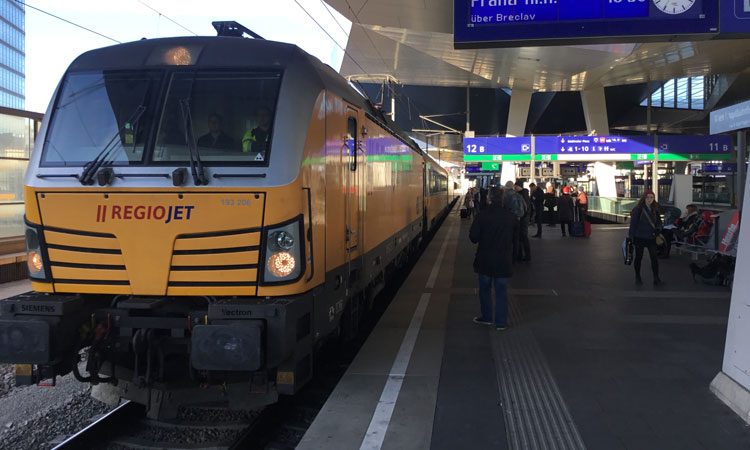 Approximately 3.1 million passengers travelled by long-distance RegioJet trains operating in the Czech Republic, Slovakia and Austria during the first six months of 2019.
These figures include approximately a quarter of a million new passengers using the trains – a growth of around 12% – than in the same period last year.
To support this growth, RegioJet has already started to fulfil its investment plans to acquire additional vehicles. It has bought 18 couchette cars from Deutsche Bahn for its night service on the Prague – Kosice route, which it hopes to put into use as soon as possible.
RegioJet will use the funds raised from its recent successful bond issue to expand its fleet capacities and support further growth. In June, RegioJet managed to sell bonds in financial value reaching nearly CZK 1 billion (€40 million).
These air-conditioned railway cars capable of travelling at 200 km/h, have a closed toilet system and suitable interiors that the operator says should require minimal adjustments to be made ready for operation. The newly acquired cars are also fully adapted for wheelchair passengers with a wider entrance door and corridor and a special wheelchair compartment.
"More passengers are using our trains, so we are investing heavily in the development of our fleet. Occupancy of our trains has been growing, and our trains have become the first choice for customers on the lines from Prague to Brno, Bratislava and Vienna. Therefore, we are currently preparing the acquisition of up to 100 more cars, so that we can further increase our capacities," commented Petr Kohoutek, CFO of STUDENT AGENCY Holding, to which RegioJet belongs.
In the coming weeks, the RJ1020 / RJ1021 Košice – Prague night trains should start regular operation in train sets of up to 18 cars and offer a significantly higher capacity of 1,000 passengers per train.
For this purpose, the RegioJet locomotive park has also been extended by another Siemens Vectron locomotive, which is necessary for carriage of heavy trains with 18 cars through the High Tatra mountains region in Slovakia.