RegioJet signs contract for seven low-floor PESA Elf.eu
The acquisition of new vehicles will continue throughout 2019 as RegioJet plans to deploy more new multi-system locomotives – and more new Astra coaches.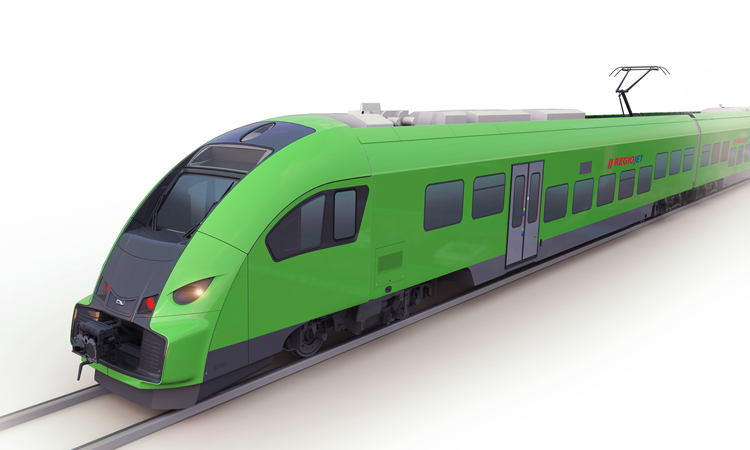 RegioJet and representatives of PESA Bydgoszcz SA have signed a contract for the supply of seven low-floor electric units (PESA Elf.eu) for operations on subsidised regional trains in the Ústí nad Labem region in the north of the Czech Republic.
The total value of the order is more than €20 million. PESA Bydgoszcz SA will start delivery of the EMUs in the second half of 2021 so that the full start of their operations can take place during the timetable change in December 2021.
Signing of the contract follows RegioJet's victory in the Usti Region's market selection for the operations of regional train services on the U5, U7 and U13 regional train lines and additional regional train services within the Usti nad Labem agglomeration. According to the contract between the Ústí nad Labem region and RegioJet; RegioJet will start its operations on these regional lines in December 2019 – starting with ex DB Regio 628 DMUs which will be fully replaced by December 2021 by the fleet of seven new PESA Elf.eu EMUs.
Radim Jančura, Chairman of the Board of Directors and Owner of RegioJet, commented: "We offered new modern electric trains to the Ústí nad Labem Region and won with the best price offered. This is also because the operation of the new EMUs will be more economical and considerably more environmentally friendly. Passengers will enjoy new services such as free internet and higher travel comfort. We are convinced that, just like on the other lines where RegioJet has begun with train services, the new quality will mean a major increase in the number of passengers using public trains."
The acquired PESA Elf.eu units are two-coach electric EMUs with DC and AC traction power. RegioJet will be the first train operator to purchase these EMUs outside Poland. The vehicle is low-floor, the interior is air-conditioned and equipped with a Wi-Fi network, and the passenger compartment is equipped with 230V sockets. The vehicle has a toilet for people with reduced mobility and orientation and is equipped with an acoustic and visual information system for announcements of stops and other traffic information using the onboard computer.
Radim said: "Rail transport is a highly promising field of our business. Our trains are profitable on all the lines – including the newly established open access services on the Prague – Brno – Vienna route. We launched these services in December 2017, and thanks to fair prices and better services, we managed to attract hundreds of thousands of new passengers."