DB Cargo continue push for digitalisation across fleet
DB Cargo will equip its entire fleet with intelligent sensors and telematics by 2020 in a bid to promote digitalisation across the board.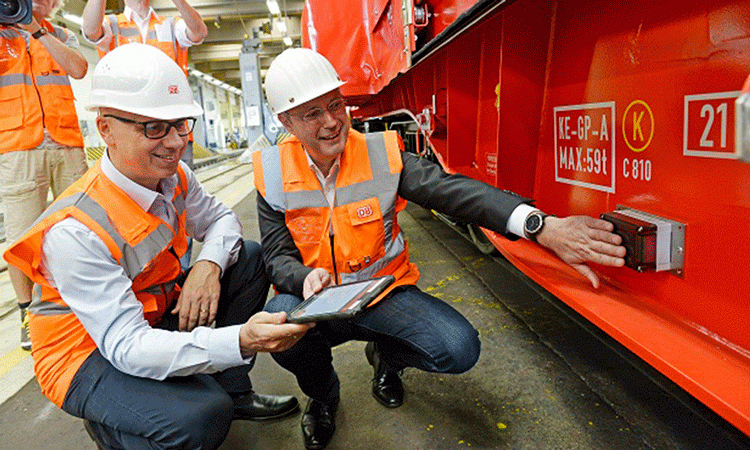 Marek Staszek, Production Director DB Caro (left) and Jürgen Harland, Head of Logistics SCM Salzgitter Flachstahl AG activate the telematics box
DB Cargo is pushing ahead with the digitalisation of its freight car fleet: in Seelze near Hanover, the 34,000th passenger car fleet is already in operation. Car equipped with the latest telematics and intelligent sensors. By 2020, the entire fleet of around 68,000 cars in Germany will be digital. DB Cargo is investing a high double-digit million amount by 2020.
The equipment with GPS and sensors gives the customers of DB Cargo many advantages. Using a telematics module, GPS and RFID and NFC tags, the analog freight cars will be transferred to the fully networked digital world. The equipped car transmits signals via mobile radio while driving and during events such as start, stop or impact. This can be used to determine useful information about the load condition, temperature, humidity or movement of sensitive goods. 
Marek Staszek, DB Cargo's Production Director, said: "The intelligent freight cars make rail freight transport more modern and sustainable. Our customers benefit from better controllable logistics chains, higher transport quality and predictable arrival times. In doing so, we want to permanently shift more traffic to the environmentally friendly freight railways and make our contribution to the 'strong rail' in Germany and Europe."
Jürgen Harland, Head of Logistics and SCM, Salzgitter Flachstahl GmbH, said: "Salzgitter Flachstahl GmbH relies heavily on efficient logistics processes in its value chain. The digitisation of our business processes with the focus on networking, real-time capability as well as quality and service orientation is becoming increasingly important. With the 'Intelligent Freight Car' the digital gap closure on the rail finally succeeds here. Predictions and assumptions are enriched and improved on the basis of the new data, because they not only provide information about the shipment but also about quality."