Bane NOR awards two track-doubling contracts on the Vestfold mainline
The two contracts will see the Vestfoldbanen equipped with continuous double tracks between Drammen and Tønsberg, enabling a better and more efficient service says Bane NOR's Stine Ilebrekke Undrum.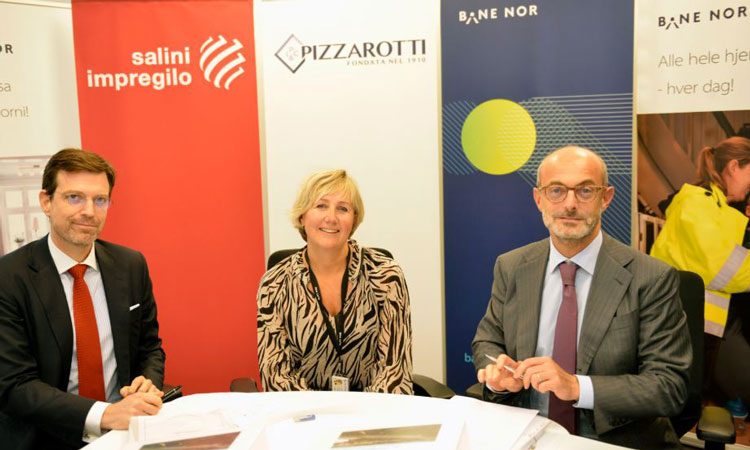 Pablo Sonnendrücker, (Salini Impreglio), Stine Ilebrekke Undrum (Bane NOR) and Giorgio Cassina (Imresa Pizzarotti) at the signing. Credit: Trine Bratlie Evensen, Bane NOR
Bane NOR has signed two contracts for the construction of double tracks on the Drammen-Kobbervikdalen and Nykirke-Barkåker stretches on Vestfold mainline.
Veidekke Entreprenør AS will build a 6km tunnel in Drammen, and the Italian working community Salini Impregilo SpA and Impresa Pizzarotti & CSpA will build a substructure for a new double track between Nykirke and Barkåker.
The tracks are scheduled to be ready for use by the end of 2024. Once complete, capacity of the route will be more than doubled, making it possible for two trains per hour to run each way between Oslo and Tønsberg.
Drammen tunnel
Veidekke Entreprenør AS will construct a 6km rock tunnel from Drammen to Kobbervikdalen, at a contract value of NOK 1.96 billion. Bane NOR's Acting Development Director, Stine Ilebrekke Undrum, noted Veidekke's experience and technical knowhow. As a former project director for Development Vestfoldbanen, Undrum had previously worked with Veidekke on the construction of double track between Farriseidet and Porsgrunn.
Italian working community in Tønsberg
Salini Impregilo SpA and Impresa Pizzarotti & CSpA have agreed to create a working community to utilise common expertise and experience in order to deliver the double track's substructure.
At a value of 3660 MNOK, the contract includes substructure work for the 13.6km double track from Nykirke south of Holmestrand, to Barkåberg north of Tønsberg. Included is the construction of two bridges, three tunnels totalling 5.3km, as well as a new Skoppum station about 1.3km southwest of the stations current location.
Construction for both projects is expected to commence in November 2019.