National Railway Museum selects sustainable design for Central Hall
The competition jury praised the proposal from UK architect practice Feilden Fowles for its elegant but functional design and ambitious energy strategy.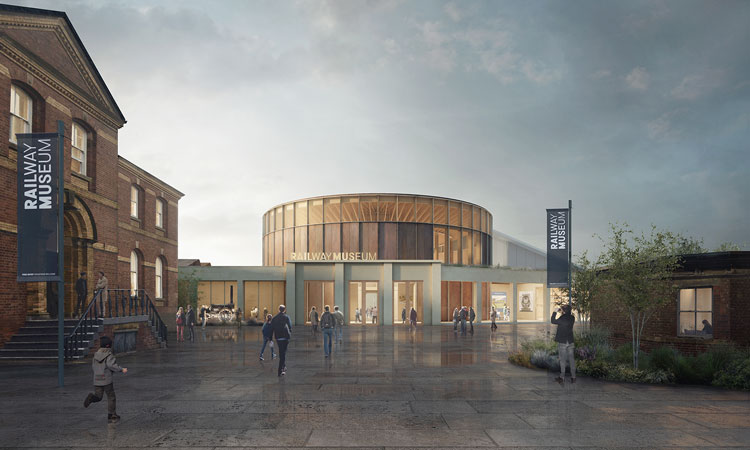 UK architectural practice Feilden Fowles will create the National Railway Museum's new £16.5 million Central Hall building.
The practice won an international competition, beating 75 other teams (comprising 241 firms from 19 countries) to the commission for the 4,500m2 hall, which will showcase the latest developments in railway technology.
Feilden Fowles' design features a central two-storey rotunda, referencing the history of locomotive 'roundhouses', and boasts an ambitious energy strategy. A combination of passive design principles and active systems, including the use of recycled copper and local York stone, will reduce the site-wide operational carbon footprint by 80 per cent.
The proposal – which will be shaped by the museum and the winning team – also dramatically reduces reliance on concrete and steel by creating a timber frame structure. As such, the building aims to be an exemplar of low-carbon and sustainable architecture.
Central Hall will be the centrepiece of the museum's masterplan to create the 'world's railway museum' and will include a spectacular 1,000m2 gallery to showcase the future of railway technology. 
"Feilden Fowles demonstrated a real sensitivity to the site's railway heritage and to the historic character of the city of York," commented Judith McNicol, Director of the National Railway Museum. "The building will play a vital role in linking the museum and will provide a focal point for the wider York Central development."
The masterplan is the cultural anchor of York Central – one of the largest and most ambitious brownfield regeneration projects in Europe. York Central has received outline planning permission and received £77.1 million of government investment in March 2020. York Central will see the creation of a new park and green spaces as well as creating up to 2,500 new homes and an additional 6,500 new jobs. 
The proposal also proved popular with the public, who were able to see the finalists' schemes in a free exhibition at the museum and online gallery and add their comments.
Dame Mary Archer, Chair of the Board of Trustees, Science Museum Group and Chair of the Strategic Board, York Central, said: "Whilst the unprecedented challenge of the coronavirus is dominating our lives, we all want to see hope and ambition beyond the present dangers. So we are holding steady with our ambition to make this the world's greatest railway museum. If anything, the wider situation has strengthened the resolve of the Science Museum Group to move forward with our transformational plans for our five sites outside London, investing in a sustainable future and playing our part in keeping culture at the heart of our communities."