Singapore's Integrated Train Testing Centre contract awarded by LTA
The new ITTC facility will be equipped to perform robust integrated systems testing for new and existing mass rapid transit lines.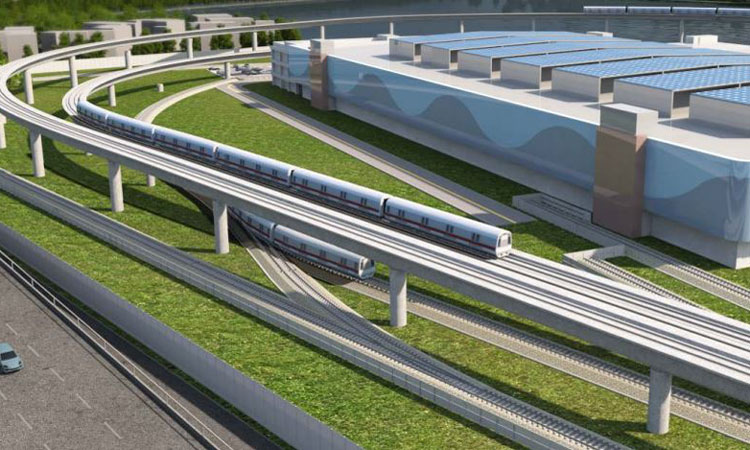 Artist's Impression of the Integrated Train Testing Centre.
The Land Transport Authority (LTA) has announced that it has awarded the contract, worth $639.5 million, for the design and construction of an Integrated Train Testing Centre (ITTC) to GS Engineering and Construction Corp.
The first of its kind in Southeast Asia, the ITTC is a dedicated facility that will be equipped to perform robust integrated systems testing for new and existing mass rapid transit lines. Integrated systems testing can be performed round the clock within ITTC, minimising the impact on passenger services.
Use of the ITTC is more efficient and frees up limited engineering hours on the existing lines for other activities, such as maintenance and renewal works. When completed, the centre will be the cornerstone of Singapore's strategy to sustain rail reliability and deepen core rail engineering capabilities.
The ITTC will house an Operations Control Centre, testing equipment and features around 11km of test tracks to support endurance, performance integration, and high-speed testing for new trains and supporting systems. Additionally, the centre is equipped with a rolling stock workshop, stabling tracks and maintenance tracks to support the major refurbishment of existing trains. 
Over time, the ITTC will also serve as a hub for LTA and the local rail industry to deepen their competencies in systems integration, operations and maintenance, as well as helping them to achieve engineering excellence. For example, the local rail industry will be able to evaluate new railway infrastructure and develop proofs-of-concept, as well as conduct research and development into new railway technologies, using the ITTC as a testing ground. 
The centre will help to speed up diagnoses and rectification of faults, as more troubleshooting can now be done locally. Meanwhile, rail workers stand to benefit with first-hand understanding of the intricacies of new rail systems before they are deployed.
The facility will commence operations in phases. The first phase of the centre will open by the end 2022 in order to receive new trains and systems for Circle Line 6, and will be fully operational by the end 2024.
Related organisations
Related regions