ProRail: Motivated to reduce risk at level crossings
Anne Zwiers was appointed as Director of Level Crossings at ProRail in the summer of 2019; a new position aimed at infusing speed and focus into ProRail's level crossing policy and working method. In an interview for Global Railway Review , Anne reveals the measures ProRail are taking to reduce the number of level crossings in the Netherlands and the efforts to improve safety at the sites where level crossings cannot be eliminated.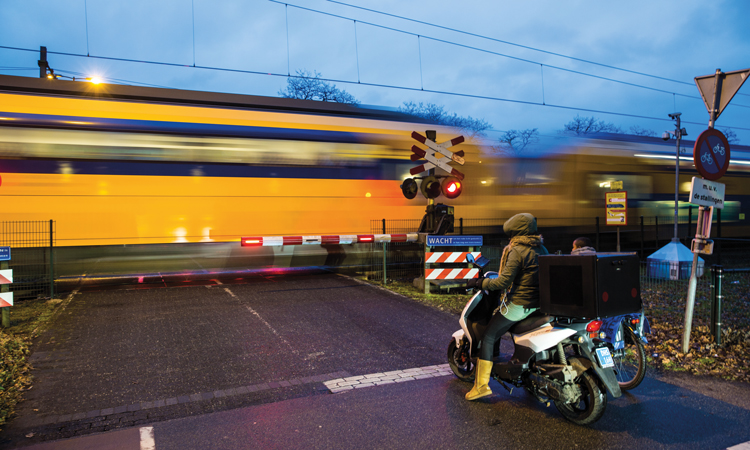 The presence of level crossings has a major impact on the safety, availability and flow of rail and road traffic alike. This includes train service interruptions due to level crossing malfunctions, (near) incidents, pedestrians on the track and suicides. ProRail – the Dutch rail infrastructure manager – has aspirations for a future with faster and more trains, fewer malfunctions and zero incidents on the track. Level crossings do not fit this future vision, especially where traffic is dense. ProRail approaches level crossings based on risk; the most hazardous ones come first.
Exploring the field
When Anne Zwiers joined ProRail as its Director of Level Crossings, an energising time ensued. In hindsight, she admits it was quite difficult to get started.
"This is a new position and a lot of our stakeholders are involved when it comes to level crossings," Anne explained. "My first task was, therefore, to explore the field; internally and especially externally. My previous role as a project manager in the ESGL (Extra Speed Train Groningen-Leeuwarden) project involved a lot of interaction with ministries, provinces, municipalities and residents. But conversations with surviving dependants, such as in the case of the fatal accident on 5 September 2019 at a Passive Level Crossing (PLC) in Winterswijk, ignite a tremendous drive. That confrontation was a painful reminder of why we are doing this."
Anne explains that the number of fatal level crossing accidents fluctuates around roughly 10 per year. "After each accident or near-accident, I wonder: have we done everything we can do to prevent it? Our story needs to be transparent. This will be one of my priorities for 2020: if a level crossing accident happens that 'we cannot be blamed for', we need to be able to demonstrate exactly why not. I hope that municipalities and landowners will become increasingly aware of their important role, because they are a decisive factor in terms of whether or not and how quickly we are able to eliminate level crossings from our network – especially when it comes to PLCs. They are outdated and dangerous, so they need to go."
More measures are required
Level crossings receive a lot of attention from the government, politics, media and residents. The realisation that more measures are required in order to improve level crossing safety is growing, as well as the understanding that parties such as local governments, residents and stakeholders carry a responsibility, too.
"Teams are driven and motivated, and the whole of ProRail is ready to join forces," Anne explained. "This is great for me to see, because it will take a joint effort to reach a solution. We need to reduce the number of level crossings and improve their safety wherever elimination is not yet an option. We also want to influence the behaviour of level crossing users. One way of doing that is to ensure the law is enforced when users cross while the gates are closed. Unfortunately, the number of incidents is on the rise once again, so this is why these improvements are urgent."
The motivation to address level crossings is primarily focused on the need to accommodate mobility. Anne projects that mobility is set to grow by 25 to 50 per cent by 2050: "Level crossings are already a major cause of rail and road infrastructure disruption and, therefore, do not fit in a future that holds increased rail traffic density."
According to Anne, we cannot facilitate future railway growth whilst maintaining level crossings. She said: "We are expected to facilitate more and faster trains without disruptions. Level crossings pose a roadblock in that regard. Reducing the number of level crossings to zero is quite the challenge. That is why we have sharpened our ambitions and policy in this area and elaborated a structured approach. Many employees from all business units have exerted great effort towards this goal in the past six months."
Current programmes for improving level crossing safety
There are two programmes for improving level crossing safety:
Nation-wide approach of Passive Level Crossings (PLCs)
ProRail wants to eliminate around 180 PLCs on the passenger network by 2023; an ambitious goal that has already involved a lot of investment over the past six months in terms of recalibrating the approach together with the ministry.
"We have addressed over 20 per cent already," explained Anne. "Whenever eliminating a level crossing is not an option, we seek alternatives before opting for active protection measures. Finding a widely supported approach for any particular level crossing takes more time than we would like from a safety perspective, because multiple parties (road authorities, residents, rights holders, recreational interest groups) are involved and need to reach an agreement."
Nation-wide Level Crossing Improvement Programme ('Landelijk Verbeterprogramma Overwegen' (LVO))
Various level crossings are being addressed in the National Level Crossing Improvement Programme (LVO). Sometimes by constructing separate bicycle paths, sometimes by building underpasses. Anne explained: "Part of the available budget is allocated to limiting the closing time of level crossings in order to reduce road users' propensity to cross the level crossing in an irresponsible way. In addition, we seek ways of exerting a positive influence on the behaviour of road users, such as law enforcement with speed cameras."
Level crossings approach
Despite the two aforementioned programmes and other various measures, the number of collisions at level crossings and fatal casualties caused by level crossing collisions is on the rise, rather than decreasing, in the Netherlands. Table 1 provides an overview of the number of level crossing collisions.
Addressing level crossings and improving safety takes a joint effort
"We want to eliminate all hazardous active and PLCs in the Netherlands," stated Anne. "Densely used track sections and the most high-risk level crossings, such as train station crossings, are first in line. Improving the safety of port and industry park crossings is also another priority for the future. International cooperation is also very important, because we all deal with the same issues. That is why we organised the International Level Crossing Awareness Day (ILCAD) in 2019, and we are participating in the ELCF and UIC working groups such as SAFER-LC."
The best crossing is not a crossing: the road to zero crossings
"We are collaborating with a lot of different parties to address level crossings and improve their safety," explained Anne. "We are in charge of this considerable societal challenge together with the ministry, regional and local government authorities. Level crossings are often located in densely built-up and intensely used areas, which means many stakeholders are involved. It is vital to weigh all those interests carefully. We will have to become smarter in how we do things, because an easy solution is often no longer on the table."
Anne concluded: "Addressing level crossings is often associated with opposing interests. Let it be clear that these are prone to causing tensions: individual, local interests aren't always in line with the interests of society as a whole. Seeking proper balance in this regard is precisely where the challenge lies. Our work generates a lot of attention, which is why I find it very important that we operate effectively, efficiently and transparently. It needs to be clear to everyone what we are doing, and how we are doing it. That is how we generate understanding and trust. More measures are required in addition to these plans. Therefore, the focus for the coming year will be on making our ambition concrete in a level crossings plan of attack, as well as obtaining a structural budget for its execution." 
Before Anne Zwiers started as Director of Level Crossings at ProRail, she was project manager for the realisation of an extra high-speed train between Leeuwarden and Groningen (called the ESGL in Dutch). For the ESGL project, she ensured, together with all the regional governmental bodies and stakeholders, that 14 active level crossings were refurbished, two active level crossings were replaced by an unlevel crossing, five passive level crossings were dismantled, and one still passive level crossing will receive protective measures. ProRail, together with the Ministry of Infrastructure and Water, is responding to the challenge of speeding up the implementation of the task of abolishing all passive public level crossings within five years. In order to get this done, Anne will be ensuring that the time schedules of regional administrative decision making are shorter, that the internal procedures of ProRail are accelerated, and that procedures are carefully put in place for stakeholders. Anne is an active connector, who works at a fast pace in collaboration with government and ProRail colleagues to abolish the passive level crossings and make public crossings safer.