TOCs Management Series: Q&A with Mark Hopwood, Interim Managing Director, South Western Railway
In the next instalment of our TOCs Management Series, Mark Hopwood, Interim Managing Director of South Western Railway (SWR), explains how the operator is on a journey of evolution that includes addressing train performance, focusing on sustainability strategies, deploying cutting-edge technology and adopting an open and honest approach with both customers and colleagues.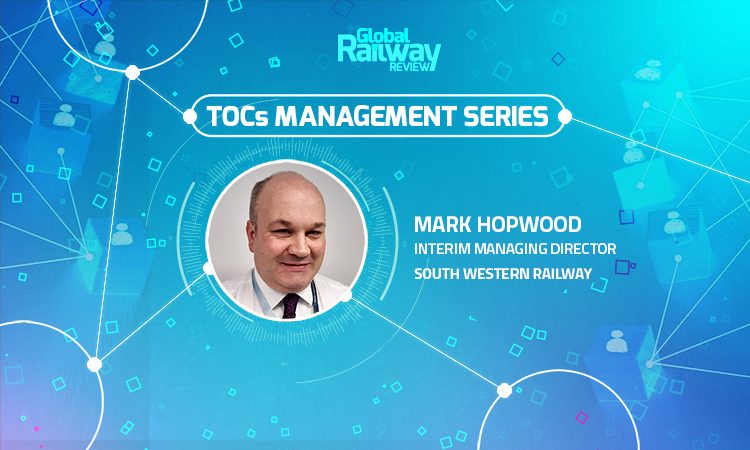 What would you say has been your toughest challenge since starting your current position at SWR, and how did you overcome it?
The challenges posed by the ongoing coronavirus pandemic have been immense. Its impact on our business has been immediate, far-reaching and all-encompassing.
From the outset, we understood that SWR had a vital role to play in helping key workers to safely get to where they needed to be. This meant that we had to go against our instincts and proactively encourage most of our usual customers to not use our services. Just as we had a role to play going into the pandemic, we are acutely aware that we have a responsibility to help kick-start the economy as life returns to normal. 
The challenges posed by the ongoing coronavirus pandemic have been immense. Its impact on our business has been immediate, far-reaching and all-encompassing.
We have had to deal with these challenges while also processing an enormous number of season ticket refund requests. We have received more than 35,000 requests since the pandemic broke out – an unprecedented number. With fewer colleagues available to process these requests, I am proud of our customer service team, who have worked from dawn to dusk, seven days a week, to process them as quickly as possible.
But we have not forgotten the challenges the business faced prior to coronavirus, and addressing train service performance, industrial relations and franchise challenges have also been receiving our attention throughout this busy period.
What are you doing to make sure your passengers are happy with their on-board and overall travel experience?
As touched on above, our priority throughout the coronavirus pandemic has been to ensure that our customers – especially key workers – are able to get to where they need to be safely.
To achieve this, we introduced a new amended timetable, which was specifically designed to get key workers to and from work. This new timetable, which included additional early morning and late evening services, has enabled us to run a consistently punctual service since the lockdown was announced in March 2020.
To help stop the spread of the virus on our trains, we have introduced hand sanitiser machines at around 100 of our stations and radically enhanced our cleaning regimes. For example, in partnership with Great Western Railway (GWR), we've announced the trial of a powerful sanitising chemical which kills 99.99 per cent of viruses and bacteria on surfaces for extended periods of time.
How are you working to improve train performance and punctuality in the future?
When I arrived at SWR nearly six months ago, my number one priority was to improve the performance and punctuality of our network. Since then, we have put in place a whole host of measures which have already made a tangible difference to the standard and reliability of our services. Here are just a few examples:
Working in partnership with Network Rail, we have removed a number of temporary speed restrictions, which have already helped to cut journey times
We have stepped up the recruitment of drivers and guards; before the coronavirus pandemic, we were employing on average 12 new drivers every single month
We've worked with Network Rail to design a change to the signalling system at Waterloo; these signal improvements are helping to reduce the frustrating waiting times outside of the station
We have had a laser-like focus on some of our busiest lines – for example, we have changed the type of trains we use on the Shepperton line, which has already resulted in an improvement in performance
We are improving the resilience of our timetable and having a better resourced control office to manage it.
To what extent would you say SWR is a modern and forward-thinking business?
It's true that SWR is on a journey of evolution into a modern, customer focused business. I am proud that SWR's commitment to environmental sustainability, cutting-edge technology and investing in our fleet illustrates how our business is fit for the 21st century, as well as looking to the future.
I am proud that our company plays its part in protecting the environment and combatting climate change. By harnessing new technology, we are cleaning up our train fleet, increasing recycling rates, rolling out electric charging points across the network and reducing energy usage.
But we're not just utilising tech to help the environment – we're also boosting our digital infrastructure. After being trialled on our trains on the Isle of Wight, Rail 5G is set to be rolled-out across the SWR network, creating the world's first ever gigabit railway. On top of this, we have worked with BT to build new mobile phone masts across our network, which are set to boost coverage and improve Wi-Fi speeds on our trains. 
Perhaps the most striking example of our commitment to investing in the future is the new fleet of Class 701 trains. We have invested almost £1 billion in these 90 state-of-the-art trains, which will boost reliability and capacity while offering modern features, such as USB sockets, improved passenger information screens and reliable Wi-Fi.
What training and development opportunities do you offer your employees, and how are you attracting the next generation to build a career with you?
SWR has an excellent track record when it comes to attracting new talent and helping our existing colleagues to reach their full potential.
SWR was the first train operating company (TOC) to adopt the Rail Operations Apprenticeship Standard, and it is easy to see why. Our apprenticeship programme enables talented individuals to develop their skills in areas ranging from engineering to health and safety. These programmes offer our apprentices the opportunity to gain valuable qualifications, such as master's degrees.
I am particularly proud of SWR's track record of helping young people from disadvantaged backgrounds to get into work. Our 'Get Into' programme helps to prepare vulnerable youngsters for the workplace and helps them to grow in confidence.
But we also want nurture the talent that we already have at SWR, which is why our REACh Apprenticeship Programme enables colleagues to upskill and develop their knowledge, while our various leadership development programmes help colleagues who are looking to move into more senior positions.
How important is transparency to your organisation; do you think you can do more in this respect?
I am a firm advocate of the importance of openness and transparency in a business. After all, in a service industry such as rail, our customers can gauge our effectiveness day after day on their daily commute. They are the best judge of both our successes and failures.
As Interim Managing Director, I take an open and honest approach with both customers and colleagues alike. Prior to lockdown, I travelled extensively around our network to have conversations and see for myself what our business was doing well and what we needed to improve upon. I regularly record video updates to explain what we are doing to improve the service we offer, and only a couple of weeks ago we held the first ever virtual 'Meet the Manager' session via Zoom. These sessions give our customers the opportunity to question my senior colleagues and me on any aspect of the business and its services.
Our customers want to see issues addressed, not swept under the carpet. Whether it be openly explaining how and why we are improving performance and punctuality or outlining why refunds are taking longer than normal during the coronavirus pandemic, I hope our frankness means that our customers have more confidence in what we do.
What priorities are you focused on delivering over the coming months?
Over the coming months, SWR will continue to play our part in the national fight against the coronavirus. This means working hard to ensure that passengers who need to use our services can do so safely. We will continue to enhance cleaning regimes, facilitate social distancing, ensure the wearing of face coverings and, of course, make sure that our colleagues on the frontline are kept safe. When the time comes, we will be ready to add more services to our timetable so that we can increase capacity.
While the focus is on coronavirus, we continue to work hard to ensure that we can introduce our new Class 701 trains onto the network, that improvements to punctuality and reliability can be built upon and sustained, that industrial action from the RMT is put firmly behind us and that we communicate better with customers and stakeholders. It's what our customers expect and deserve. 

Mark Hopwood has been Interim Managing Director of South Western Railway (SWR) since January 2020. He was appointed to help improve performance across the network using the experience he has gained after more than 30 years in the rail industry. Mark was seconded to SWR from sister company Great Western Railway (GWR), where he has held the position of Managing Director since 2008. Over his 30-year railway career, Mark has worked in both front line and more strategic roles, covering periods with BR, Thames Trains, Railtrack, First North Western, c2c, WAGN, Silverlink Trains and Gatwick Express.