Roundtable: The Future of Train Stations
The rail industry continually strives to identify ways to ensure that train users have the best possible experience, and travelling through train stations plays a huge part in this. Although train stations are understandably much quieter at the moment, passengers will eventually return – so, how will train stations adapt and improve what they currently offer in order to accommodate the changing requirements and needs of travellers? This 'roundtable' brings together key industry personnel and those passionate about sharing their opinions on the importance of train stations to the overall rail journey experience, and how these spaces might look in the future when considering the changing demands of tomorrows' passengers.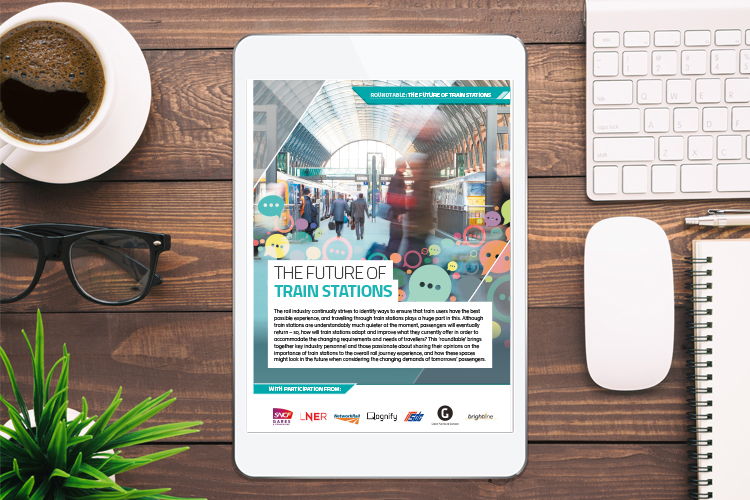 Participants:
Alan Riley, Head of Stations, LNER
Charlene Wallace, Director of Freight, National Passenger and Customer Experience, Network Rail
Morgane Castanier, Head of Customers, Marketing & Digital Technology, SNCF Gares & Connexions
Patrick Goddard, President, Brightline
Mark Grisdale, Strategic Account Manager, UK – EIM, Qognify
Sanjeev Kumar Lohia, MD & CEO, Indian Railway Stations Development Corporation Limited (IRSDC)
Johan Berhin, Founder, Green Furniture Concept
Find out what these industry experts think about topics including train station ticketing and real-time information facilities, how train stations can keep passengers digitally connected during their journeys, the importance of train stations being integrated with other transport modes and developing them into 'hubs', how train stations can become more sustainable and play a bigger part in the rail industry's ambition to be a 'greener' mode of transport, accessibility for all, and in what ways might the coronavirus pandemic shape the way that train stations are used and managed in the future.