The Rail Data Marketplace: providing access to quality rail data and driving innovation
Jez Smith, Rail Data Marketplace (RDM) Programme Lead at the Rail Delivery Group (RDG), writes about the RDM – a service that will provide the tools and frameworks to simplify data sharing between data consumers and the rail industry, opening data up to innovators to develop new tools and services for the industry and its passengers.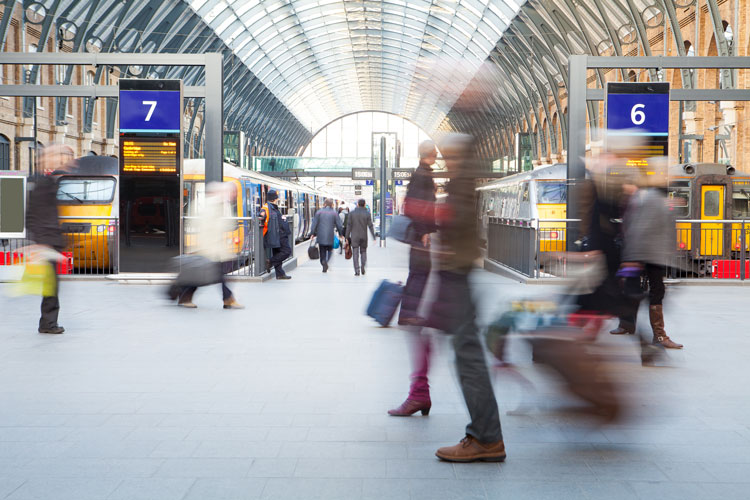 "In God we trust, all others bring data," said W Edwards Deming, a key influencer of the Japanese manufacturing industry. While light-hearted, this quote reflects a modern-day truism that successful businesses use data-driven insights to inform effective decision-making. While less visible, we also rely heavily on data in our personal lives through our use of those time-saving and convenient apps that we have become so attached to.
This all points to the need for data which is Findable, Accessible, Interoperable and Reusable (FAIR). Conversely, a lack of easily available data makes it more difficult for all organisations within an industry, but particularly for new players, start‑ups, and disruptive innovators, to enter the market. There are numerous examples across transport and more broadly, where new players bring different perspectives and ideas which stimulate innovation and increase the rate of change. Therefore, challenges in making available and sharing data becomes a barrier to change and improvement in the sector as a whole.
Making access to data easier for all
As the rail industry struggles to adapt to changing passenger demands and reduced revenues, making access to data easier for all will be an effective way to support innovation and the continuing pursuit of improved passenger experience and operational efficiency.
Rail is a huge eco-system of different organisations working in tandem to move passengers and freight across the country. The efforts to improve efficiency have been significant; train operating companies (TOCs) and industry players have delivered tangible benefits to passengers while striving to make services more cost-effective. However, given the scale of our railways, matching supply and demand, meeting and exceeding customer expectations, as well as a myriad of other priorities is a herculean task, made all the more difficult by often having to be done across organisational boundaries.
The implementation and launch of a RDM will allow the industry to better exploit the data which already exists, as well as lower the barriers of entry to innovators and new entrants to our sector.
It is these organisational boundaries that often result in a separation of data and issues in ensuring that disparate data sources can be used together to solve cross-organisational challenges and improve operational efficiency at a macro-level.
It is this need to make data 'FAIR' which the Rail Supply Group, along with other key industry stakeholders, recognised several years ago. They championed the creation of a Rail Data Marketplace as part of the Rail Sector Deal back in 2018 which was supported by the Department for Transport (DfT), Rail Safety & Standards Board (RSSB), Rail Delivery Group (RDG) and Network Rail. This idea of the democratisation of data and the marketplace concept was further cemented in the Plan for Rail which emphasised the need for the open sharing of data as one of its commitments and a key component in the long-term vision for Great British Railways (GBR).
RDM: enabling digital innovation
The idea of a Rail Data Marketplace (RDM) is simple enough; it is a single access point to discover, understand, and access rail data; a collaboration platform to exchange data and ideas enabling digital innovation in the rail industry. It aims to be inclusive, enabling the publishing of 'open' and chargeable data sources, those data sources with conditions of use and those without, data from the public and private sectors, those purely related to rail and those from useful adjacent sources. It will give consumers the widest possible view of what data is available across the whole industry and beyond. The RDM will provide:
A business-to-business service, not one directed at passengers
A service which reduces the friction between publisher and supplier, making a complex transaction easy and intuitive for both
Access to data sources rather than becoming an enormous data lake in and of itself
Signposting of data which will not go through the Rail Data Marketplace because it requires accreditation to access or contains personally identifiable data
Provide guidance in data publication which is robust, secure, and in a format which is future-proofed, as well as how to manage data effectively over the long-term
Categorisation of data sources against a consistent taxonomy, so data can be found easily
A methodology in which data quality can be described by publishers and understood by consumers
Granular control to publishers as to who can access data and for what purpose
Robust, template-based, data sharing agreements for use by publishers and consumers
Aggregated invoicing and billing for chargeable data
A place for collaboration to take place, highlighting industry challenges and inviting participation in their resolution.
The RDM is a foundation-stone for the effective future use of the data which is available in our industry. It cannot resolve the many challenges posed by legacy systems and data formats overnight, but as the mathematician, engineer, inventor and philosopher Charles Babbage said: "Errors using inadequate data are much less than those using no data at all."
Going live in early-2023
Following grant funding from the DfT in 2021, the RDG has led the delivery of the RDM, which will go live in early-2023. The project is overseen by the Rail Data Council to ensure that the service meets the needs of the whole industry, and representatives from Network Rail, Great British Railways Transition Team (GBRTT), Rail Supply Group, RSSB, as well as DfT, are all represented on the Board.
User research in late-2021 led to the development of a prototype, testing out approaches to the data catalogue, a consistent taxonomy, and standard ways to describe the quality of data, as well as the licensing of data and a 'data sharing agreement builder'. The programme of work to deliver a working RDM has gathered pace over recent months with the selection of a supplier who is currently building the platform. This platform uses an industry standard software solution ensuring robust security, as well as all the functionality, to control access and monitor usage of data sources. Limited trials using live feeds and real consumers will begin in November 2022 to test out functionality and performance. Our roadmap of suitable data sources is continuing to grow with some exciting new data sources planned for inclusion at our launch in March 2023. The plan is to regularly publish a future pipeline of data sets that will be made available on the platform.
James Bain, Rail Supply Group's 'Mobility and Data' Champion, Chair of Rail Data Council and CEO Worldline UK&I, said:
"Simplifying data access was highlighted in the original Rail Sector Deal as a key component of a flourishing, modern and advanced rail sector. The creation of a Rail Data Marketplace is a big step forwards and places the sector in an excellent position to move rail forward to match and even surpass other sectors such as air travel, in terms of the offer we can make to customers and clients.
"I am extremely pleased with the open collaboration across the Supply Chain, Network Rail, RSSB, UKRRIN and Train Operators and would like to thank Rail Delivery Group for their absolute commitment to delivering this initiative.
"Transport for London (TfL) has previously opened up its data in a similar way, which has led to significant benefits for passengers and the wider economy. In 2017, an independent review of TfL's open data found that over 600 apps were powered by TfL data, and used by 42 per cent of Londoners. In addition, the release of this data was found to generate annual economic benefits and savings of up to £130 million for travellers, London, and TfL itself."
Creating a fit-for-the-future platform
The implementation and launch of a RDM will allow the industry to better exploit the data which already exists, as well as lower the barriers of entry to innovators and new entrants to our sector. It will create a fit-for-the-future platform upon which we can all collaborate and innovate, ensuring that the rail industry is sustainable for the future. As the co-creator of the World Wide Web, the informatics engineer and computer scientist Robert Cailliau said: "When we have all data online it will be great for humanity. It is a prerequisite to solving many problems that humankind faces."
The aspirations for the RDM are much more modest, but perhaps it can play a part in taking this great industry into a bright future.

Jez Smith leads the implementation of the Rail Data Marketplace (RDM) as part of the Rail Delivery Group (RDG). Jez has previously run several transformation and digital programmes across numerous different sectors including involvement in NHS Choices, London Congestion Charging, TV Licensing, as well as working with DfE, MoJ and the Met Police.
Do you want to learn more about the Rail Data Marketplace?
Join Global Railway Review's Digital Rail 2022 event taking place on 7 & 8 November 2022 in London, where Jez Smith, Rail Data Marketplace Programme Lead at the Rail Delivery Group, will take to the stage and provide more details of the long-term goals of programme and the value it will bring to the industry.