Etihad Rail: Pioneering UAE railway design and innovation…
For decades railways around the world have played an integral role in the socio-economic development of local communities, cities and countries through enhanced freight transport and logistics capabilities. Key benefits include providing a fast and efficient alternative means of passenger and freight transport; increasing connectivity between urban and rural spaces; job creation and reducing the environmental footprint by decreasing road traffic. The United Arab Emirates (UAE) recognises the importance of rail transport to the wider region and is therefore embarking on an ambitious railway project to facilitate the tremendous economic and social development witnessed over the past few years…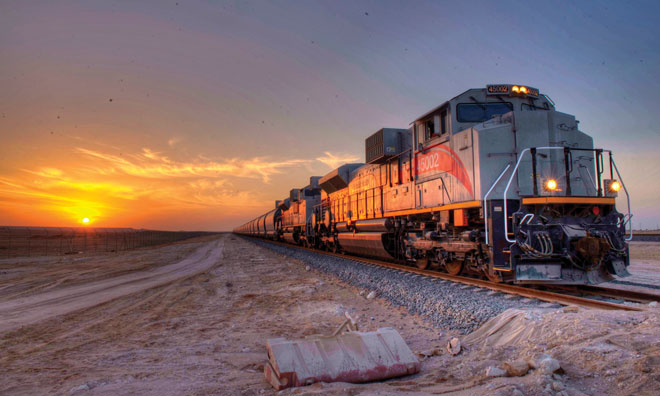 Having already reached a number of important milestones in the construction and operation of the Stage One network in the western region of Abu Dhabi that extends from the gas fields of Shah and Habshan to the port of Ruwais, Abu Dhabi-based Etihad Rail and its strategic partners in railway design, construction, and operation are playing a major part in the development of the highly-anticipated GCC railway project. Connecting the emirates with links to KSA from the UAE via Ghweifat in the West, and Oman via Al Ain in the East, the UAE's multibillion-dollar investment is a vital component of the GCC's future railway network.
Why rail transportation is advantageous
From the beginning, Etihad Rail has been one of the pioneers of the GCC's railway development, contributing significantly toward the completion of the region's proposed railway network. In line with the core tenets of the Abu Dhabi Economic Vision 2030 and the UAE Vision 2021, Etihad Rail considers integrated transport to be vitally important to the strategies that promote trade and enhance connectivity across the emirates while supporting sustainable development.
Cargo, for instance, whether intermodal, bulk or break bulk, can be carried on rail at more competitive rates for many customers with a reduced carbon footprint than any other mode of transport. One train can in fact remove approximately 300 trucks from the road and emit 70-80% less carbon dioxide than trucks carrying the same tonnage, alleviating the impacts of congestion and pollution. The speed and efficiency of cargo transport on Etihad Rail will support national goals for economic diversification, providing social and environmental benefits within the UAE, combined with the provision of secure links between the UAE and neighbouring GCC countries.
Delving into rail network planning and design
Leveraging international expertise, the teams involved in this project are well-versed in the planning, design and construction of some of the world's most successful rail projects. Careful planning, including the identification of the major generators and attractors of freight and passenger traffic, will ensure that the rail network will maximise its potential by being an attractive transport alternative for businesses and passengers alike.
Penetrating key industrial centres, bulk product-generators, including quarries and major ports across the UAE, were all factors considered when ensuring that the plans and designs for the railway network would serve freight customers directly and lead to an enhancement in logistical capabilities. The planned network will connect Jebel Ali (DP World), Khalifa (ADPC), Fujairah and Gulftainer's Khor Fakhan port, either directly to customers transporting bulk products such as iron ore for steel production and aggregates and cement, or to/from inland container ports in the UAE and other GCC countries where the containers are put onto trucks for distribution to final destinations. On the passenger services side, which will come to life upon completion of Stage Three, the ability to link key centres of population, airports, integrate with current and planned metro systems, as well as be able to serve rural populations, were key considerations in planning additional passenger links to the core network.
In order to ensure the safe and efficient movement of goods and passengers, the railway has been designed to the highest international standards, in accordance with interoperable technical specifications agreed with our GCC railway partners. The standard gauge network is mainly double-track and designed for mixed-use traffic, carrying freight trains with speeds of up to 120km/h and passenger trains that can reach top speeds of 200km/h. The state-of-the-art European Train Control system (ETCS Level 2) – a digital radio-based signal and train protection system that improves safety and increases capacity – is the signalling infrastructure of choice for the Etihad Rail fleet, which is designed for heavy axle loads (32.4 tonnes per axle) in order to maximise the volumes that can be carried by a single train. On Stage One, a single train can carry up to 11,000 tonnes in 110 wagons. The design of structures will enable double-stack containers to be carried, maximising the number of containers per train that can be transported.
Future proofing the UAE's railway network
The UAE's progressive economy is synonymous with an evolving landscape. Etihad Rail's strategy is to build a railway network that caters to the needs of customers, both today and tomorrow, ensuring sufficient capacity for anticipated traffic and infrastructure growth. Planners, designers and engineers are required to future proof projects of this magnitude from the outset, in order to mitigate the risks of significantly higher costs in the future as a result of network changes. Part of this future proofing includes securing a rail alignment that will enable future expansion capability (including four-tracking between Abu Dhabi and Dubai) and possible future electrification of the railway.
Freight terminal and passenger station site developments have already been identified and these will be of sufficient size to accommodate reasonably foreseeable future demand.
Mitigating environmental conditions
Comprehensive impact assessment studies were conducted to address challenges emanating from the prevailing climatic and topographic conditions within this region, characterised by extreme temperatures, humidity, sand dunes and wind-blown sand. Etihad Rail learned from the experiences of countries that have dealt with similar challenges, including Saudi Arabia, Mauritania and China, to share insight and best practices in mitigating the effects of a harsh environment, while ensuring that natural habitats and ecosystems are preserved.
The design of Etihad Rail's Electro Motive Diesel (EMD) SD70 locomotives includes features such as a sand filtration system and sand plough to mitigate the effects of sand. Etihad Rail has also benefited from knowledge-sharing platforms on sand movement mitigation with presentations from other rail industry experts, such as China Railway First Survey and Design Institute (FSDI), who provided Etihad Rail, its partners and stakeholders, with invaluable insight into the best-practices on wind-blown sand protection, as well as sand movement mitigation for roads and railways. Etihad Rail also took part in studies led by the University of Southampton in the UK on sand contamination effects. All of this research and benchmarking work informed the design of sand mitigation measures for Stage One of the railway network. 
Conclusion
Faced with a mandate to manage the development, construction and operation of the UAE's national railway, Etihad Rail has made significant progress in the design, construction and operation of a state-of-the-art railway network, using a combination of local and international expertise. The GCC railway network was conceived with ambitions to contribute greatly to Gulf countries' efforts in diversifying the region's economies away from a strong reliance on the hydrocarbons sector, with Etihad Rail operating as a key player in the overarching growth and diversification strategy of the UAE.
While Etihad Rail is currently assessing the timeline for Stage Two delivery and reviewing the most appropriate time for its development, the organisation remains committed to working with key government entities and stakeholders to ensure the completion of the UAE's national railway and usher in a new era of transport for both people and goods.
Biography
Faris Saif Al Mazrouei is the Chief Executive Officer of Etihad Rail, responsible for managing the overall operations and resources of the company and leading the team to deliver the UAE's national railway network. Faris joined Etihad Rail in 2010 where he successfully led the development of Stage One of the rail network, including the launch of the railway testing and commissioning of the Habshan-Ruwais section in September 2013. He was appointed CEO in 2014, where he has overseen the commencement of Stage One commercial operations as of December 2015. He also currently serves as a Board Member of ERDB, Etihad Rail's operating partner. Faris is also a member of Etihad Rail's HR Committee, Procurement Committee Safety and Security committee, plus serves as Co-Vice Chairman of the US-UAE Business Council. Prior to joining Etihad Rail, Faris led Planning and Project Services at ALDAR properties in the planning and infrastructure department. Faris holds a Bachelor of Engineering from the University of Cincinnati in the United States. Following his graduation, Faris spent two years in consultancy in the United States where he was involved in the design and development of luxury housing/apartments in New York, Manhattan and California with portfolios worth more than USD 120 million.