Construction completed on the world's longest railway tunnel
Posted: 25 July 2016 | Renzo Simoni, CEO of AlpTransit Gotthard Ltd. | No comments yet
Following 17 years of construction, the new Gotthard Base Tunnel was ceremonially opened on 1 June 2016. Measuring 57km-long it is not only the world's longest railway tunnel but also a unique masterpiece of engineering. Renzo Simoni, CEO of AlpTransit Gotthard Ltd., the company tasked with construction, provides an insight on the colossal tunnel structure work and the different stages of the project…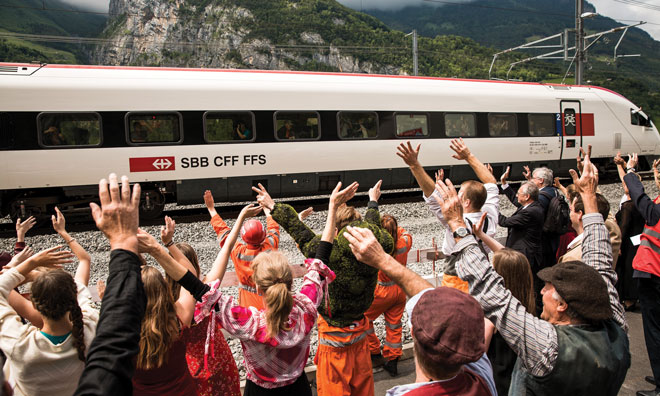 The Gotthard Base Tunnel extends from the north portal at Erstfeld, in the canton of Uri, to the south portal at Bodio, in the canton of Ticino. The main tunnel is 57km-long and consists of two single-track tubes that are 40m apart and connected to each other every 325m by a cross-passage. When all the connecting passages, access adits and shafts are added together, the complete tunnel system measures more than 152km. With a rock overlay of up to 2,300m, the Gotthard Base Tunnel is the world's deepest railway tunnel and has virtually no gradients, with the highest point lying at 550m above sea level.
Two multifunction stations, beneath Faido and Sedrun, divide both tubes into three sections approximately equal in length. In these multifunction stations the trains can cross over from one tube into the other and stop in an emergency. For construction purposes, the Gotthard Base Tunnel was divided into five sections. To save time and costs, construction work on the individual sections was coordinated and, for some of the time, carried out simultaneously.
The tunnel structure
To construct the Gotthard Base Tunnel the miners had to cut through highly diverse rock strata: from hard granite to highly fragmented sediments. Eighty percent of the driving in the main tubes was performed by tunnel boring machines and 20% by conventional drilling and blasting. A total of 28.2 million tonnes of excavated rock was transported out of the tunnel. The underground temperature was as high as 45°C. At peak times around 2,400 people worked on the tunnel construction sites, with the work taking place on a 24h three-shift basis…
The rest of this article is restricted to logged-in members. Login or subscribe free to read it.