A vision to connect everything to transform train travel
Recently-appointed Nomad Digital CEO, Reece Donovan, talks to Global Railway Review about the company's vision to connect everything and drive the digital rail agenda.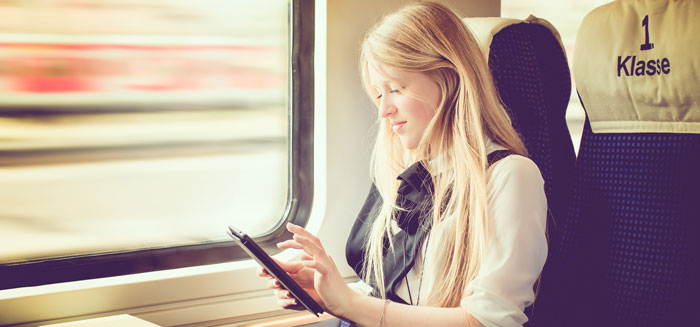 As we thrive under our new ownership, we are presented with lots of exciting opportunities that enable us to fulfil on our commitment to deliver an outstanding digital experience to train operating companies (TOCs).
Our ground-breaking vision of the 'networked train' from 2007 remains relevant today. Yet now we see a great opportunity to connect not just the passengers, but also train builders, maintainers and on-board staff – all of whom play a pivotal part in the passenger experience – and this is part of our future strategic vision.
Connectivity is not all about technology. By reaching out to a broader set of stakeholders through the solutions and systems we create and deliver, we are connecting the whole on-board ecosystem. The TOCs and their passengers will always remain our core audience and central to what we do, but we are expanding to other stakeholders that can take advantage of our offer.
Connecting to a wider base of stakeholders play a valuable role in enriching the passenger experience, by responding to market needs and solving connectivity challenges through our heritage of innovation. Passengers are crucial to the TOC – yet train guards and drivers, conductors and caterers and builders and maintainers, all serve to enhance the passenger experience too.
Bringing together passenger connectivity, information and entertainment with predictive maintenance and fleet efficiency really does transform a TOC's ability to improve its passengers' experience. By achieving greater convergence between our connectivity platform and our passenger information services, we enable personalised journey information and bespoke sales services. Our OBIS solution will lead in this field through its ability to feed information simultaneously to both the train's screens as well as the passenger's devices.
Monitoring and reporting also plays a key role in our vision, providing a holistic view of the passenger experience. We offer solutions which provide TOCs with both timely and historic insight into connectivity usage and fleet performance, enabling them to monitor, respond and report on fleet operational issues in a far more intelligent, proactive way.
The Internet of Things provides a myriad of opportunities. By connecting everything on the train we remain at the forefront of the digital agenda, transforming train travel and supporting TOCs to deliver an exceptional journey experience for their passengers.
To help us continue to innovate with TOCs to realise our vision, do please share your views on industry challenges and opportunities in our rail ICT survey. It is only through engaging with the industry in a collaborative and open way that we all can realise this potential for transformation.
Related topics
Related organisations
Related people