Smartcards are about to get smarter at Govia Thameslink Railway
Govia Thameslink Railway (GTR) is Britain's biggest rail franchise: 326 million passenger journeys are made across its network with Southern, Gatwick Express, Thameslink and Great Northern every year. In November 2015, CEO Charles Horton explained how the story of GTR is a story of delivery: new train fleets, new services, a step-change in capacity, better stations, better staffing and smart new ways of paying to travel. Here, GTR's Head of Revenue Development, Dave Walker, updates us on that last commitment.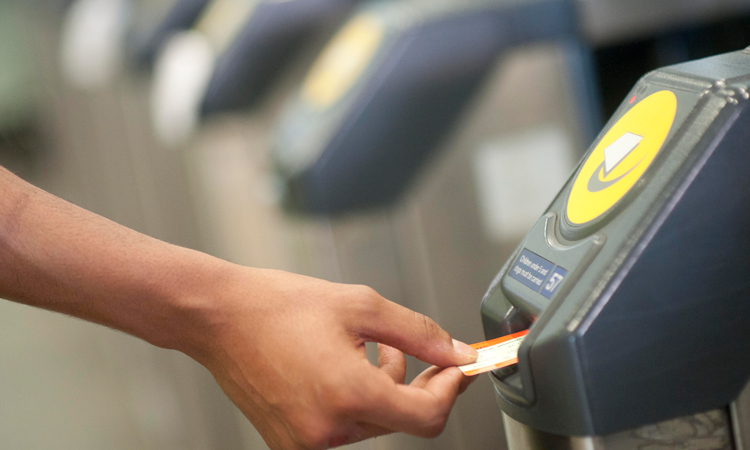 In 2011 Southern introduced Britain's first smartcard to the rail network, which we named 'the key'. Passengers can now order a smartcard and load on to it singles and returns, seasons, off-peak and even Travelcard season tickets.
By purchasing their ticket online, passengers don't have to queue up; they just touch in at the ticket gate and breeze through. They can also buy many of the products at station ticket machines. Furthermore, if they lose their card it can be blocked and replaced and there's no deposit on the card either.
In September 2015 we extended this technology to Thameslink and Great Northern. It is currently only valid for season tickets on this part of the network but it's proving hugely popular: historically, Brighton has been by far our busiest station for the key, but we are now selling more key journeys from St Albans.
However, our smartcard is about to get smarter! There's an even better system underway called keyGo that is already working on Southern for journeys that start and end outside London. The next step, aiming to be in operation this autumn, is to enable keyGo on the Thameslink and Great Northern routes and also at the National Rail stations we serve in London. At a stroke, passengers will be able to travel a vast network from Brighton to Bedford, to Cambridge and Huntingdon.
So what is keyGo?
keyGo combines pay-as-you-go with the simplicity of a pre-loaded card that guarantees the best fare wherever you travel on our network.
keyGo is very similar to Oyster and Contactless – as with Oyster, you tap and go. Unlike Oyster, but more like Contactless, your bank account is associated with your key account. This means that, at the end of your journey the fare engine calculates the cheapest fare you should have been charged and deducts it from your bank account. In effect, our smartcard has become a token to travel.
The really unique aspect of keyGo is that it gives passengers a qualitatively improved alternative to orange print tickets. With the current ITSO-based smartcard, such as the key, where you pre-purchase a ticket either online or from a ticket machine, your purchasing is very similar to what you do with an orange ticket: you still have to queue up or log in. With keyGo pay-as-you-go, we are making a leap forward to the TfL type approach where passengers don't have to queue – there is no retailing activity at all!
Furthermore, if you lose your keyGo card, you haven't lost your cash; we simply change your Key smartcard and associate it with your account. Furthermore, keyGo is multi-modal, working on Metrobus and Brighton & Hove bus company services across nine bus zones.
keyGo is also so smart, it will work out what extra to charge for day journeys that take passengers further than their season ticket. A lot of people will have a journey, say, out to Brighton and use their season ticket to Three Bridges.
There are a few limitations, however. keyGo can only be used for standard class fares because it can't tell what class you are using. It also won't be valid initially in London on the Tube, DLR or London buses.
Also, Contactless has a weekly and daily capping feature, which keyGo doesn't have. Again, we would like to do this but it's a huge technical challenge as London has a relatively simple fares structure, based on concentric zonal rings compared to our network where we have very many fares, lots of different routes and high value tickets. We are not yet sure exactly how we are going to introduce capping, but it's a fascinating challenge.
Working beyond weekly capping is also hard to achieve. Theoretically, it could do away with weekly season tickets, but monthlies and annuals are much more difficult – taking money off and giving people bits back as they go through the year is a complex task.
However, having said this, by extending keyGo to Thameslink and Great Northern and introducing it to the stations we use in London, we will create the critical mass to make smartcard ticketing a much more appealing system. Unlike other train operating companies using smartcards as part of the South East Flexible Ticketing (SEFT) system, ours will work wherever we have a validator – not just at ticket gates – so people can travel the entire network on it, always being guaranteed the best value fare, overcoming that frequent customer complaint of an overly complex fares structure. We're the only operator currently working with this kind of technology and it's going to be a game-changer.
How to manage demand
At Govia Thameslink Railway we're trialling demand management ticketing on the route between Crawley and Horsham to London and between Radlett and Luton Airport Parkway. Approximately 550 people in the trial can save £2 a journey if they travel outside the peak periods. The feedback is good. It's better for passengers. It helps us encourage people to use our less heavy shoulder peak services. We'll be reporting back to the Department for Transport with learning and recommendations. A decision will then be made whether to roll it out more widely.
Gatwick's your Oyster
The work we are doing with Transport for London and the Department for Transport saw us extend Oyster and Contactless journeys to Gatwick in January 2016. This has been hugely successful: 16% of all starting journeys from Gatwick are now on Contactless or Oyster which, in four months, is pretty spectacular and that number is continuing to grow steadily. We have already seen a reduction in queues at Gatwick and the number of times we have to open the ticket gates due to crowding has reduced dramatically.
Biography

Dave Walker has worked as Head of Revenue Development for GTR since July 2015. Before that he was Head of Revenue Development at Southern from June 2013 to 2015, Head of Train Planning from January 2010 to June 2013 and Head of Franchise & Access Contracts from April 2007 to December 2009.