How is Stockholm leading the way on enhancing train passenger experience?
MyHeadsapp, MTR Nordic's new travel app, is providing travellers in Stockholm with personalised travel information and updates. Jeremy Long, CEO European Business at MTR Corporation explains how this technology is helping to improve the end-to-end journey experience for passengers.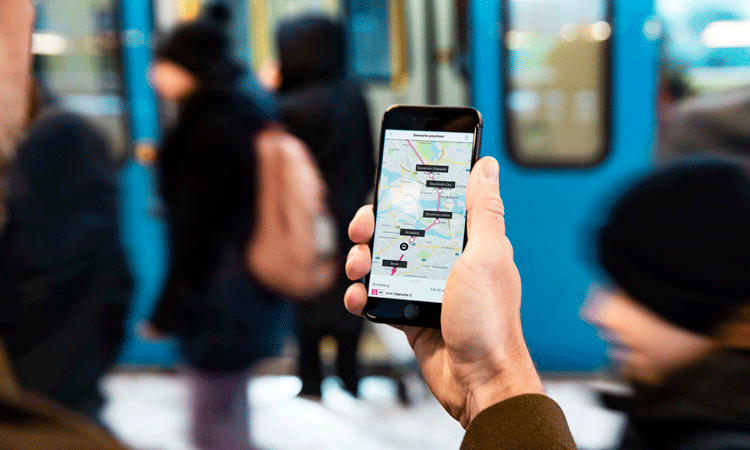 As with nearly every other consumer industry, users of transport services want to see more and more from the operators of their transport, expecting them to use technology and data to improve passengers' journeys. There was a time not too far in the past when simply being able to find out the train times on your phone was considered the height of innovation, but with the normalisation of wide-ranging real-time information, this is no longer the case.
Passenger demands
Passengers want to know about delays to their journey in advance, they want to know where their train is, and increasingly they want their travel apps to help them with more than just one journey. They want technology that brings together all the disparate methods of getting around a city and helps manage their journey from beginning to end, moving us closer to a user experience where passengers become consumers.  
MTR Nordic has sought to meet some of those expectations with MyHeadsapp, its latest travel app, which delivers personalised traffic information and travel recommendations via push notifications directly to users' mobiles. MTR Nordic currently operates both the Stockholm Metro and the commuter railway Pendeltag, but has ambitions to provide a fuller end-to-end journey service, which improves the mobility of its services and enhances passenger experience in a meaningful and tangible way.
End-to-end journeys
This is where MyHeadsapp comes in. The app was developed purely with the intention of offering Stockholm passengers a smoother journey around the city. By offering push notifications when a passenger's favoured journeys are delayed, the service offers a heads-up on any delays so that passengers can plan accordingly. But this doesn't stop when they get off the train – the app helps navigate all types of traffic in the Stockholm Public Transport Authority, and includes tips for restaurants, entertainment and key landmarks around the city.
MyHeadsapp has the individual passenger's every journey at its heart; filtering huge amounts of traffic information and adapting it to the journeys that its users make on a regular basis, sending them personalised notifications when delays or traffic affect their journey. Real-time information is therefore crucial for the development of the app, so that users can see or be alerted to the most up-to-date information. The app also comes equipped with a 'where is my next train' function – which gives a visual demonstration to users of the latest known position of trains on a map. This incredibly popular tool allows users to feel more in control of each part of their journey by receiving continual visual updates as and when they want them.
Design and operation
When the development of the app began in September 2018, MTR's vision was that the best place to start in creating an app to improve passenger experience was to speak to the passengers themselves. To start this process, MTR used a 4,000-strong passenger survey to produce a holistic picture of users' transport habits.
This was combined with in-depth analysis of travel patterns and disruptions. The app processes data from Trafiklab by Stockholm Public Transport Authority that contains timetables and deviations, disturbance information and route suggestions. But MyHeadsapp goes beyond simply the information of the Stockholm Public Transport Authority, utilising regional data by Samtrafiken – a collaborative organisation for traffic in Sweden, and data from the Traffic Agency, both capturing vehicle positions and traffic network data.
MTR have further plans in place to keep improving the app by calling on even more data sources, both open and those owned by MTR, in order to provide the world's best disturbance information. 
With all of this data saved into the app's algorithm, users simply need to tell it what journey they want updates for. The user saves a trip which is used to filter the lines and stations of interest to the user and if a disturbance occurs that affects any of these, a push notification is generated from a table of parameters including a greeting and the user's name (if supplied).
The future
Now that it is in full operation, MyHeadsapp provides a solution that will simplify and improve traveller's everyday lives, and one that it is hoped will mean that even more people choose to travel by public transport in Stockholm.
MTR are also looking beyond Stockholm, adapting the lessons learned from this process to its other markets across Europe to try and bring this latest innovation to many of its services as possible. This is a key aspect of MTR's goals to provide end-to-end user journeys and start moving towards mobility solutions in major cities that are consumed as a service.
We've come a long way from finding the train times online, and its mostly thanks to the innovative thinking such as that behind MyHeadsapp.
Biography

Jeremy Long is Chief Executive Officer – European Business of MTR Corporation. Jeremy joined MTR in 2005 to lead its growth strategy in Europe. Since then Jeremy has led all of MTR's bidding activity and the mobilisation and development of each of MTR's business interests in Europe. Jeremy was formerly Managing Director of FirstGroup Rail Division, the largest portfolio of UK rail businesses, and was Founder and Chief Executive of GB Railways Group plc – an award-winning passenger franchise, open-access, and rail-freight operator.
Related organisations
Related regions