Delivering digital solutions to improve rail performance
Global Railway Review's Editor, Craig Waters, speaks to L.B Foster's CTO, Dr Mark Aston, about what the future of rail looks like and how L.B Foster plans to be a part of the exciting times ahead.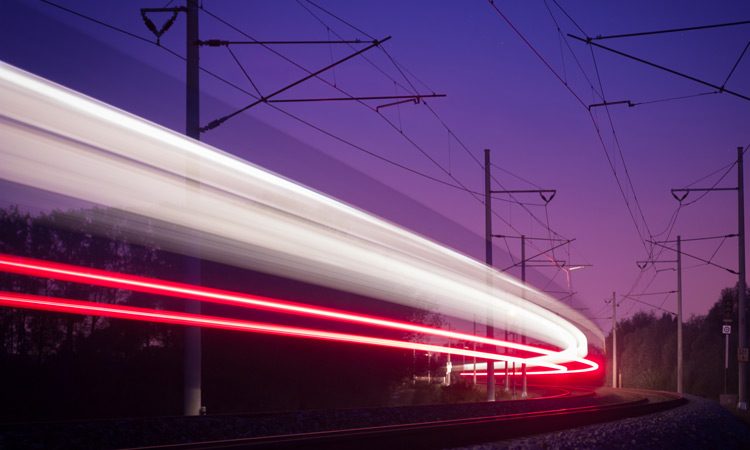 Focusing on the UK industry, where have you implemented your products and how are they making a difference?
Our 'touch points' throughout the UK rail network are quite varied, but a great example is our disruption information totems called 'Inform'. These passenger information totems are particularly innovative in that they operate 24 hours a day without external power and as a totally wire-free network. In the event of an issue, be that a cancellation or other disruption, the totems can be re-positioned in a convenient location around a train station to relay information to passengers.
This sort of technology is starting to complement the sort of projects we've been delivering for several years, such as our high visibility, low-power customer information display systems. These ran for a decade at London's St Pancras station, providing crucial passenger information to guide passengers on their journeys.
In the UK, we've successfully deployed friction control solutions for the London Underground and Network Rail. These solutions prevent adverse rail noise and wear on rail point switches especially. 
For monitoring the condition of tracks, our fully wireless solar-powered CCTV surveillance systems are currently in place along sections of the UK's rail infrastructure that may require upgrading.
Our product portfolio also includes solar-powered CCTV cameras that have the capability to remotely send text and picture messages to engineers. These devices also act as sensors for embankment monitoring to provide additional support to battery-powered wireless sensors that can detect if a siding is starting to slip. Additionally, our LIDAR sensors assist at level crossing sections by detecting if the crossing is clear of pedestrians or vehicles before the barrier gates close.
Our performance critical rail technology solutions fulfil an essential role in maintaining the safe, secure and reliable daily operation of rail networks across Europe. Our future efforts will be investigating how we can enhance data analytics which will result in conducting more efficient asset management and maintenance strategies.
This means Network Rail and train operating companies will have more reassurance about the condition of their assets and how best to act on that information to ensure efficient train operations. In turn, this can help to operate more trains at closer intervals with greater levels of safety. This results in increased passenger satisfaction and delivers better operational costs. These are our key focus areas for the next Control Period.
Where do you think digitalisation will take L.B Foster and the wider rail industry?
The biggest part of digitising the rail network is enabling all our products to have some form of wide-area connectivity; whether its via ethernet, 3G, 4G, soon-to-be 5G, Wi-Fi, track-side communications or general signalling systems. 
Our emphasis over recent years has been to make our products 'network ready' and develop software that targets asset maintenance, asset monitoring, asset analytics and reporting, KPI reporting for staff and managers, stock parts-holding and warehousing, and preventative reporting analytics.
When an asset is serviced, such as a signalling system, and fault is found, an engineer can simply replace a component. But what's not been done previously is report back as to whether that component was replaced the last time there was a fault. And is there going to be another occasion soon when that component will need to be replaced again? Instead of manually looking at it and thinking 'there's a fault, okay I'll replace it', analytics will show if there's a sequence to that same component failing. Is that due to a problem with the supplier? Is it due to a faulty component specification? Or is there an underlying cause that is very different to the problem that the manual maintenance engineers are looking at?
This analytical power allows machines to talk to software to provide an understanding of what is happening and why.
Is L.B Foster working with Crossrail?
Yes, we are doing a substantial amount of work for Crossrail and its Tier 1s construction partners. Our Telecoms business is one of the biggest on-site installers of the telecommunication systems that keep Crossrail running; from wiring internal control systems through to CCTV, Driver Only Operation, the customer information and the PA system. Much of that is under L.B Foster's remit for a large proportion of Crossrail stations.
We've also designed special in-tunnel friction management units specifically for Crossrail because of the narrow tunnel environment to help reduce noise and decrease rail-wear. That has been very successfully rolled-out across the whole of Crossrail 1, and we're now in discussions for Crossrail 2.
Network Rail relies on data sources for CIS and we're developing a universal interface, particularly for items such as passenger information totems. Information can be gathered from a variety of sources and then reformatted in a way that can be presented as either analytics for station staff, or to customers for preventative journey information and remote ticketing. Our Inform totem is a key component of interactive and intuitive passenger information delivery. Most importantly, this allows information to be presented to passengers before frustration kicks in. It's this proactive provision of information that we want to try and increase for Crossrail and ongoing for HS2.
The industry is starting to harness and understand how digitalisation and connectivity can benefit us. Would you agree?
Absolutely. Most rail networks around the world probably have a heritage of a 100-year-old infrastructure. Network Rail is very conscious that 87 per cent of its old, traditional earthworks, retaining walls and old stations are coming up to the point where they may need critical maintenance. Preventative maintenance can reduce the likelihood of a catastrophic collapse. How do we implement a monitoring system to give them the answers? How do they prioritise which of their assets need to be replaced first? Monitoring old infrastructure with new technology is the key.
So, ultimately, we're implementing all these things to essentially help the railways run better, perform better, and improve passenger experience?
Yes, if we're going to decrease carbon emissions then we must make passenger options more attractive than jumping in a car.
Commuters, especially in large cities, complain frequently. I'm one! You try and travel during off-peak times in the hope you might get a seat, but even that's not always guaranteed.
So, do we operate longer trains? How do we run more trains?
We do it by running and maintaining the railway as efficiently as possible and by harnessing digital solutions to give us the knowledge to run trains closer together without compromising safety. That's ultimately the end goal.
Related organisations
Related people