Spanish rail industry contributes to future design of bogies and wheelsets
Component manufacturers representing the Spanish railway industry have recently developed cutting-edge bogie and wheelset technologies. Not only do these new advances help to improve the lifecycle of rolling stock, but they also contribute to reduced maintenance costs while increasing operational safety. Pedro Fortea, Director of Mafex – the association representing the Spanish railway industry, explores further.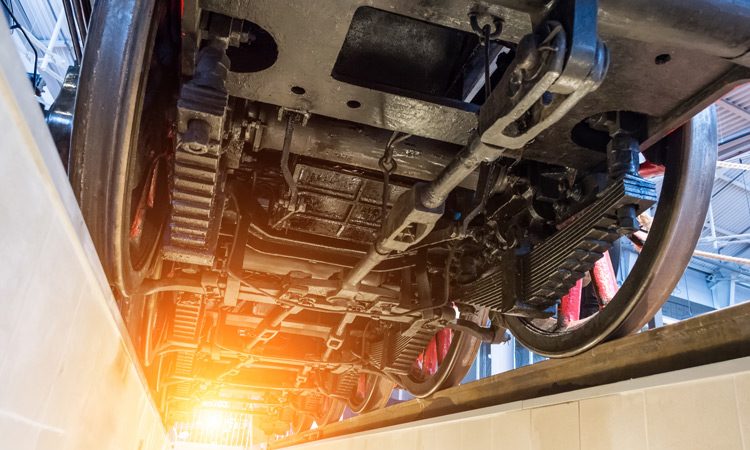 Railways around the world are continuing to grow as a crucial mode of public transport. In the 'World Rail Market' report by Roland Berger drafted for UNIFE, the projected forecasts up to 2021 for the railway sector look positive. The study indicates that average annual growth rates are expected to increase by 2.6 per cent, based on a current market value of €159 billion.
Several European countries have provided unwavering support for the train manufacturing industry. In the last 25 years, Spain has moved to the fore internationally thanks to major investment pledged to improve the country's mobility. High-speed rail, the expansion of regional rail services and the development of new urban transport modes have revitalised the sector to make the Spanish mobility industry a worldwide reference in terms of innovation and know-how.
The increase in railway's modal share has meant a boost in research and development (R&D) with the aim of incorporating the greatest possible number of technological advances. The aim is to improve aspects such as operational safety, passenger comfort, maintenance and sustainability. In this context, the construction of state-of-the-art rolling stock and all aspects relating to bogie and wheelset fitting have acquired an integral role.
Progress in bogies and wheelsets design: The role of the Spanish industry
New technology opens-up a wide range of opportunities for the bogies and wheelsets marketplace. The numerous solutions within the current digital ecosystem contribute to a previously unseen transformation that will optimise railway operations to the fullest.
Aware of this challenge, the Spanish railway industry has willingly undertaken R&D to improvement of high added value products and developments associated with bogies and wheelsets. Companies within the Spanish railway industry have spearheaded projects and been pioneers in advances such as 'Railsand' for the design of a new rails and wheels for trains operating in extraordinary and abrasive conditions. A new type of hardened rail has been designed that can lower rates of wear and tear when placed in harsh operational conditions such as deserts, thus making it more resistant to corrosion. These solutions are in place for the first 1,000 journeys along the Medina–La Meca high-speed line.
Other significant progress includes the incorporation of a self-propelled Universal Variable Gauge Bogie (BRAVA) which enables vehicles to operate along UIC and national width tracks. This changeover is possible without having to stop the train and leads to significant progress in terms of railway interoperability.
With several available solutions for the market, the Spanish railway industry is making clear headway in the improvement of components for rolling stock that can help to achieve a more modern, safer and more competitive railway.
Elsewhere, based on the concept of independent guided wheels, many technological innovations have been sourced that place the Spanish railway industry at the forefront of the sector, such as the Shifting Rolling System (RD), natural pendulation, the change in width for tractor axes or bi-axes for independent wheels.
For bogies and wheelsets, CETEST has carried out work that uses a combination of sensor systems to measure the dynamic and structural parameters of a vehicle, either using cables or in a wireless manner, through pre-processed tools and algorithms that allow advanced diagnoses to be performed to monitor the condition of the different sub-elements of a vehicle or sections of infrastructure. To achieve this, wireless sensory elements can be deployed at precise locations which use advanced algorithms and machine learning techniques. This ensures that diagnoses and condition-based maintenance (CBM) can be performed on a vehicle or infrastructure which is often inaccessible, such as wheelsets, bogie frames, suspension elements or sections of track to ascertain its quality.
Spanish railway companies have also launched state-of-the-art prediction technology. Among these is a system that helps to extend the lifecycle of wheelsets by integrating software into measuring equipment that centralises data from the wheelsets. It performs a complete analysis of the wheel's profile and dynamic monitoring of deterioration trends, radius differences and equivalent conicity, critical contact areas, wear and tear symmetry and evolution, loss of materials in wheel lathes and scheduling of tasks based on condition.
Also available in the market are innovative solutions such as vertical lathes for wheels, particularly designed for railway applications. Likewise, a variable width axis system for freight carriages has been created enabling two types of axis to be developed depending on wheel diameter (either 920mm or 760mm).
With several available solutions for the market, the Spanish railway industry is making clear headway in the improvement of components for rolling stock that can help to achieve a more modern, safer and more competitive railway.
Mafex, the Spanish Railway Association, is the association that represents the Spanish railway industry, currently bringing together 85 companies that account for 80 per cent of rail exports in Spain. Established in 2004, Mafex implement activities around four major areas: internationalisation, competitiveness and innovation, institutional relations and strategic positioning and marketing and communications.