Gatwick Airport train station transformation moves forward
The next stage of Gatwick Airport's £150 million station transformation will soon begin, thanks to innovative ways of working within COVID-19 social distancing safeguards.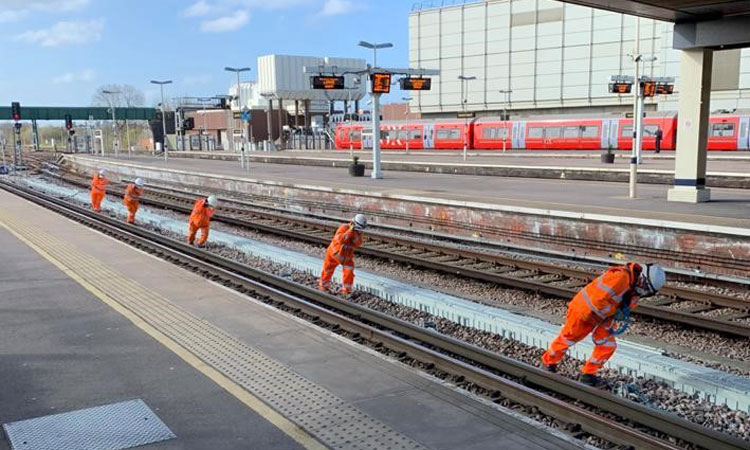 Safety has been paramount on the Gatwick project. Here, engineers pull a cable into position. Credit: Network Rail
The project at Gatwick Airport will relieve overcrowding, improve accessibility and reduce delays for millions of passengers every year.
Platform 7 will close on 17 May 2020 to enable construction of the new station concourse to begin, however, the other station platforms will remain open.
The station, which serves passengers using Southern, Thameslink and Gatwick Express, is a vital part of infrastructure for the airport and the economy once people start to travel again. When the upgraded station opens in 2023, there will be wider platforms and improved step-free access, five new lifts and eight new escalators. The work will double the concourse area, which will make journeys from the train to the plane much easier.
The project is being managed by Network Rail and delivered by Costain, in partnership with the Department for Transport (DfT) and Govia Thameslink Railway. Gatwick Airport Ltd and Coast to Capital Local Enterprise Partnership are co-funding the project with £37 million and £10 million respectively.
Paul Harwood, Regional Investment Director for Network Rail, said: "We've found innovative ways of progressing with our work during this pandemic, ensuring the continued safety of our contractors and at the same time hitting our important project milestones. We have now finished diverting power cables and testing the places we'll be piling for new foundations, and we're on target to start our work on platform 7 on 17 May."
Rail Minister, Chris Heaton-Harris, said: "I am pleased to see an important milestone reached on this project, which is testament to the hard work of all the teams involved who have come up with innovative ways of working in these challenging times. Once complete, the expanded, modern station will be an impressive gateway to Global Britain, improving accessibility and services for passengers."
Emma Rees, Head of Surface Transport at Gatwick Airport, said: "With the current unprecedented impact on travel due to COVID-19 it remains important to us to ensure that work continues on offering the public an improved service and experience in the future. We are confident that the aviation industry will recover as people start to travel again for business, for pleasure, to trade and to visit family and friends. This work will also offer a much-needed kick-start for the region's economy."
Angie Doll, Managing Director of Southern and Gatwick Express, said: "During these difficult times for the country it is important that we continue to look to the future, preparing for a time when we will be supporting the regeneration of our region's economy. Our rail services have a vital role to play at Gatwick and the new station will create a gateway we can be proud of into the UK."
Network Rail, Costain and project partners are continually assessing the project to ensure mitigation measures for every single activity are carefully risk-assessed and fully compliant with regulations on social distancing, as well as guidance by Build UK and Public Health England.