HS2 CEO draws attention to sustainability work on World Environment Day
On World Environment Day 2020, the CEO of HS2 has highlighted the huge scale of ecological and landscape work being carried out on the entire project.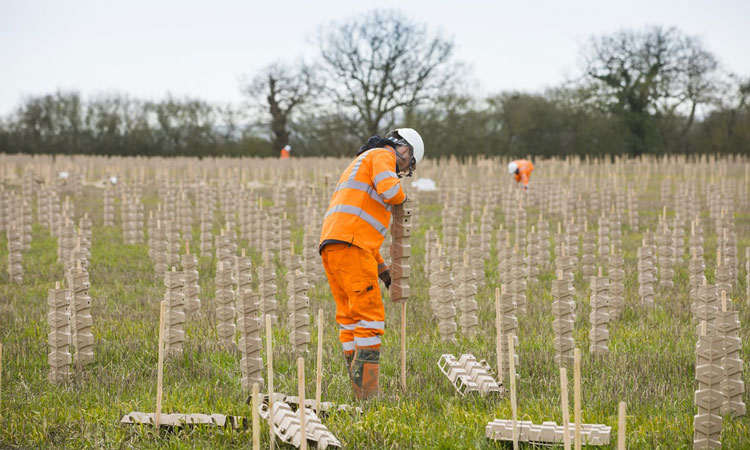 Credit: HS2 Ltd. - Over 39,000 biodegradable tree guards have already been used on new habitat sites.
On World Environment Day 2020, the CEO of HS2 Ltd, Mark Thurston, has called on environmental organisations to support and contribute to the 'biggest environment project in Britain' – a project that is delivering many miles of ecological and landscape investments alongside the construction of the HS2 railway – and has provided 12 facts about the huge scale of the environment work being carried out on the entire project.
Although it's widely understood that rail is much better for the environment than flying or driving, many don't yet realise that a passenger kilometre on HS2 will emit just 8g of carbon in 2030 and will be 17 times more efficient than domestic air, seven times more efficient than road and twice as efficient as the current rail system. As the independent Oakervee Review concluded, HS2 will play a key role in the UK reaching the 2050 net-zero carbon emissions target.
However, even before HS2 begins operation, there are countless environmental projects and innovations occurring across the route to protect, preserve and enhance Britain's precious natural environment.
Mark Thurston, CEO of HS2 Ltd, said: "Our ambition at HS2 is to design and build the most sustainable high-speed railway in the world, so that we can play our part in helping the UK to tackle climate change, improve air quality and reach net-zero carbon emissions by 2050. But it is just as important for us at HS2 that we protect the natural environment and leave behind richer, more diverse and better-connected landscapes and wildlife habitats. We have some of the UK's most experienced and leading ecological consultants working with us on what is the biggest environment project in Britain. So, on World Environment Day 2020, I'd like to urge all environmental groups to get behind a project that will have countless benefits for our natural world, now and in the future."
12 facts and figures about HS2's landscape and ecology programme
1. The creation of over 60 new wildlife habitats
A range of habitats between Hillingdon and North Warwickshire have been created – including species diverse grassland, ponds and native tree and shrub planting – to support a broad number of species, such as newts, reptiles, badgers, birds and bats.
An example of this is Finham Brook in Warwickshire, where six new ponds have been created for great crested newts to breed in, extensive grassland has been planted to support local wildlife and over 6,200 new trees have been planted, featuring native species to the area, such as oak, hazel, hawthorn and holly.
2. Up to seven million trees will be planted on Phase One
HS2 is delivering an unprecedented programme of tree planting and habitat creation alongside the new railway – with up to seven million new trees and shrubs being planted between London and Birmingham alone.
Crowders Nurseries, a family run SME in Lincolnshire, was awarded an HS2 contract in 2016 and is growing over 40 different species of tree, including species that are native to each area. Over 350,000 new trees have already been planted along the route.
3. Over 33km2 of new woodland and wildlife habitat will be created
HS2's new woodland and hedgerow planting and habitat creation will be an increase of around 30 per cent, compared to what is currently there. In Warwickshire, for example, bigger, better and more joined up habitats are being created, with new planting designed to provide better connection to other existing features and habitats.
4. HS2 continues to undertake one of the largest ecological surveys in the UK
The approach allows HS2 to be best informed on the impacts of the scheme and to understand the necessary mitigation needed to reduce its impacts and to also seek opportunities that leave a bigger and better natural environment legacy. 
5. Some of the UK's most experienced and leading ecological consultants are working with HS2
HS2's environment work is supported with technical input and advice from specialist ecologists, including recognised experts on specific species, such as barn owls. In addition, the baseline for assessing the impacts to biodiversity has been generated in part through survey data obtained from years of surveys undertaken by localised ecology specialists and species recording groups.
The information is also supplemented though the data obtained from organisations such as the Wildlife Trusts, Woodland Trust and Natural England.
6. £7 million HS2 Woodland Fund for new and existing woodlands
In addition to the extensive tree planting programme, a separate fund has been established to help local landowners create new native, broadleaf woodlands and restore existing ancient woodland sites.
Through the HS2 Woodland Fund, a total of £7 million is supporting projects on Phase One and Phase 2a. The first £1.2 million has been allocated as part of a grant scheme managed on HS2's behalf by the Forestry Commission, supporting 25 woodland projects that will deliver approximately 103 hectares of new woodland and restore a further 63 hectares of ancient woodland.
7. 85 per cent of the 62 ancient woodlands affected by HS2 will remain intact
There are 52,000 ancient woodland sites in England, 62 of which will be affected by HS2's full route. Over 85 per cent of the total area of the 62 ancient woodlands will remain intact and untouched by the project. Where an ancient woodland is described as affected, in many cases, this may mean a small section of an overall woodland is affected. Only 0.39km2 of ancient woodland areas will be lost between London and Crewe.
8. Over 39,000 biodegradable tree guards on new habitat sites have been used
The HS2 project opens the opportunity to use and test different planting methodologies, as well as plant protection measures to inform best practice within the construction industry.
Made from 100 per cent recycled card, the tree guards completely decompose once the trees are established, leaving no waste products to recycle or remove. They are designed to replicate nature, ventilated to prevent overheating, capable of drainage and encouraging upward growth.
9. New homes for barn owls
The Barn Owl Action Plan for HS2 Phase One contains measures to provide additional nest sites and habitats for the species. HS2 is working with farm owners and landowners along the route to find new locations for barn owls, and there are already 21 new locations with barn owls established.
10. Ancient woodland soil salvage
HS2 is salvaging woodland soils to new receptor sites which will create habitats for flora and fauna. This also includes salvaging coppice stools and saplings.
The first ancient woodland soil salvage has been undertaken at Broadwells Wood, Birches Wood and Crackley Wood, where 55 coppice stools and 345 saplings have been replanted.
New techniques have been introduced to replicate the woodland canopy, which will provide data and insight for future activity.
11. Forty pear tree saplings from a veteran pear tree in Warwickshire have been grown
An ancient pear tree in Warwickshire, named by locals as 'The Cubbington Pear Tree', will live on in the form of regrown saplings as part of HS2's work to preserve biodiversity and to create bigger, better and more joined up habitats along the HS2 route.
Forty new trees have been grown from cuttings taken from the veteran wild pear tree, which is located in a hedgerow south of Cubbington Wood, on land that is being prepared for the UK's new railway.
12. New green bridges for wildlife are being created
Far from being a barrier to wildlife, HS2 will be criss-crossed by access routes with 140 bridges and underpasses on Phase One, including 16 specially designed 'green bridges' covered in planting and 25 miles of tunnel.