DB implements face mask requirement prevention and control campaigns
Supported by the German Federal Police, Deutsche Bahn is implementing new campaigns to ensure passenger compliance with face mask requirements.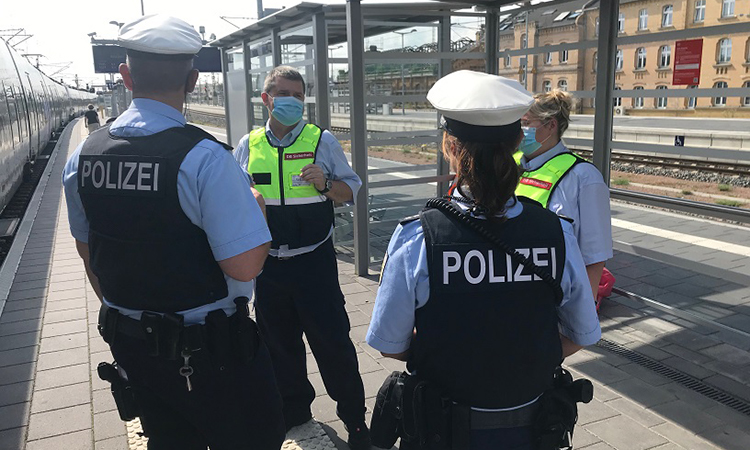 Credit: Deutsche Bahn AG - Heiner Spannuth.
Deutsche Bahn AG (DB), with the support of the German Federal Police, has announced that it is implementing further prevention and control campaigns to ensure passenger compliance with face mask requirements to protect passengers and staff from the spread of COVID-19 in trains and at stations across Germany.
Northern Germany has been chosen as the first centre of focus: A start was made on 6 October 2020 in Mecklenburg-Western Pomerania and, on 7 October 2020, controls on long-distance and regional trains in Hamburg, Schleswig-Holstein and Lower Saxony have been introduced.
Representatives of the responsible regional health and regulatory authorities will also be present at selected train stations. The Federal Police supports the efforts of the responsible authorities to enforce the face mask requirement on rail traffic, and numerous actions will take place in all federal states until December 2020.
Deutsche Bahn's Passenger Transport Board Member, Berthold Huber, said: "We know from several studies that mouth and nose coverings have been proven to ensure that rail travel is safe. That is why our core concern for the autumn is high security presence on trains and at stations to continue to monitor the requirement of wearing masks on a regular basis."
In addition, DB is strengthening its own security team. On long-distance trains, after the introduction of larger security teams, there will now be additional reinforcements for weekend services during the autumn holidays. At large train stations, DB is expanding its presence on weekends and in the evenings. Random counts showed that this is where the need is greatest.
During the control campaigns, DB will also use information stands at the largest train stations to emphasise the requirement for a face mask, to speak with travellers and to distribute single-use masks.
Berthold added: "Our commitment so far has had a positive effect. Together with transport associations and other industry partners, we are observing that well over 95 per cent of passengers on long-distance, regional and S-Bahn trains now wear face masks at normal times of the day."
In mid-September 2020, the federal government, the federal states, associations of the transport industry, trade unions, central municipal associations and transport companies agreed on regular priority checks at the "Round Table on Implementing the Mask Requirement in Public Transport". Deutsche Bahn is, therefore, building on the prevention and control campaigns that took place in 11 federal states together with the federal police in the summer.