Green Cargo to test digital automatic coupling to improve efficiency
By introducing DAC on its wagons, Green Cargo will improve capacity, punctuality, the working environment, efficiency and profitability.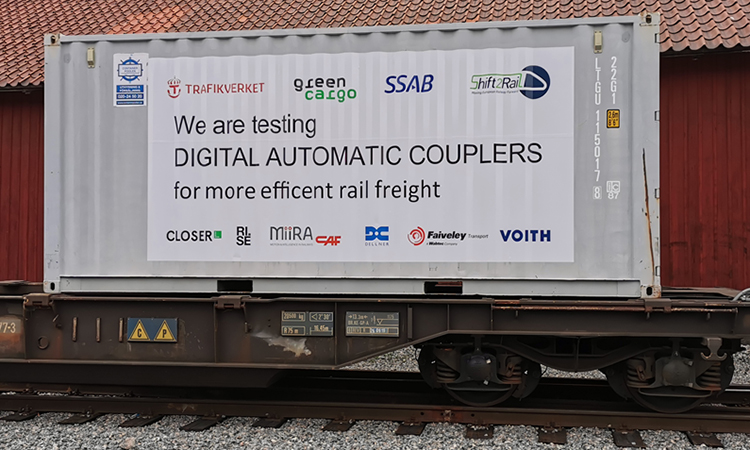 Credit: Green Cargo
Green Cargo has announced that it is testing digital automatic coupling (DAC) in order to increase the efficiency of rail freight in a unique European collaboration.
The equipped wagons will soon leave the maintenance depot in Eskilstuna and arrive in Luleå. That is where Green Cargo will test different automatic coupling options in Swedish winter conditions. Tests will also be conducted in parallel in Austria, Germany and Switzerland.
Automatic coupling has many advantages for the industry when it comes to safer working conditions and increased production that enables larger volumes of rail freight for more sustainable logistics. This streamlining is an important part of transitioning more freight from road to rail. 
Automatic coupling for trains was developed as early as the 1900s and is used on all new passenger trains. However, freight trains wagons are still coupled and decoupled manually with screw couplings. Capacity, punctuality, working environment, efficiency and profitability for rail freight can be significantly improved through digital automatic coupling and complimentary digital solutions.
Several time-intensive and hazardous tasks can be automated using DAC, which also provides secure data communication and energy efficiency. It opens doors to new, modern logistics concepts and scores of digital applications.
"Introducing automatic coupling is necessary for reaching a cost efficiency that benefits the entire railway system," explains Jan Bergstrand, coordinator for Shift2Rail's freight programme.
A standard has been developed by the European railway R&I collaboration Shift2Rail for a modular, multifunctional digital automatic coupling, which can subsequently be upgraded.
Wagon Manager at Green Cargo, Annette Bernström, said: "Automation is essential for both increased competitiveness and production that enables more efficient freight transportation with longer and heavier trains. A modular solution, where the cost is split into stages, simplifies implementation. We're pleased to have the opportunity to help develop a safer working environment and more efficient operations for the industry in Europe, not least when it comes to achieving climate goals."
The FR8RAIL project, which is a part of the freight programme in Shift2Rail, is now preparing 12 wagons for testing, which have been equipped with three types of DACs. The tests are being conducted in Sweden, Germany, Austria and Switzerland, where the focus is on winter conditions. The project is hoping for cold weather and a lot of snow and wind in Luleå, Sweden, where the tests will be carried out.
"Together with Green Cargo, several European industry operators and academia, we'll test different levels of automation and evaluate their function, effect, system compatibility, costs, and so on," explains Anders Ekmark, Strategic Planner and Project Manager for FR8RAIL.
Participants in the winter tests for DACs include the Swedish Transport Administration (Trafikverket), Green Cargo, the CLOSER platform at the Lindholmen Science Park and the four suppliers behind the DACs: CAF MiiRA, Dellner, Voith and Wabtec-Faiveley. Additionally, SSAB is supplying tracks and premises and the Swedish national research institute RISE is carrying out the tests. The project is being conducted within the framework for the European railway R&I collaboration Shift2Rail, which is financed by Horizon2020, the EU's framework programme for research and innovation.