Amtrak reveals urgent funding is required to support services in 2021
Despite delivering safety improvements and fast-tracking technology projects during the pandemic, Amtrak's President and CEO has said that without additional funding for 2021, the corporation may be forced to further reduce services, defer critical capital projects and make more job reductions.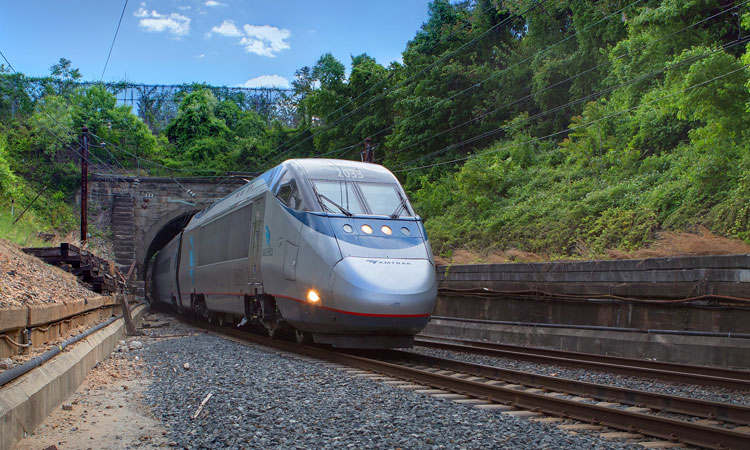 Credit: Amtrak
Over the past fiscal year, Amtrak has worked to prioritise customer safety, advance infrastructure and fast-track technology improvements even as the ongoing pandemic caused a devastating drop in ridership and revenue.
Amtrak quickly pivoted to handle this unprecedented challenge and ensure customers and employees remained healthy, while also continuing to focus on improving intercity passenger rail for the future.
Amtrak President and CEO, Bill Flynn, said: "Our dedicated employees continue to work tirelessly through the pandemic to keep this country moving, advance critical infrastructure and update technology and services, and provide safe transportation to customers. However, without additional funding for 2021, we will be forced to further reduce service, defer critical capital projects and make more job reductions despite this important progress."
Business remains at approximately 25 per cent of pre-COVID-19 levels, and based on the current forecast, ridership and revenue is expected to improve to about 37 per cent of pre-COVID-19 levels by the end of fiscal year 2021.
Amtrak Board Chair, Tony Coscia, said: "Prior to the pandemic and with strong support from our partners, Amtrak set new records for ridership, revenue, and financial performance on its path to achieve operational breakeven in fiscal year 2020, further demonstrating the country's growing need for rail. We are continuing to make advancements so when customers return, they will find an even better Amtrak."
Preliminary results for fiscal year 2020 (October 2019 – September 2020) include:
Safety: Completed Positive Train Control (PTC) installation on all tracks managed by Amtrak, continued advancement of our Safety Management System
Capital Investment: Advanced $1.9 billion in infrastructure and fleet work
Ridership1: Provided 16.8 million customer trips, a year-over-year decrease of 15.2 million passengers, owing to the pandemic-related travel demand reductions
Operating Earnings2: ($801.1 million)
Total Operating Revenue3: $2.3 billion, decreased 31.9 per cent over FY 2019.
Amtrak's highlights in fiscal year 2020 include:
COVID-19 response
With a medical director and partnership with the George Washington University Milken Institute School of Public Health, Amtrak studied, analysed and made improvements to the Amtrak travel experience for the safety and health of its people and travellers. In an effort to simplify and safeguard the travel experience, several cleaning, contact-free and safety measures have been implemented into every part of the customer journey, including requiring face masks at all times, limiting bookings, and signage to promote social distancing and more. Through a partnership with RB, the makers of Lysol, Amtrak is enhancing its cleaning and disinfection measures.
Safety
There has been continued advancement of the comprehensive Amtrak Safety Management System, resulting in improvements in a broad range of safety metrics. Amtrak also completed PTC implementation on all Amtrak-owned and controlled track.
Diversity and inclusion
Amtrak has implemented initiatives to improve diversity, inclusion and belonging. They hosted listening sessions with employees, created a Diversity & Inclusion Council, made significant changes to our hiring practices, offered 'unconscious bias' training to all employees, and strengthened its relationships with external organisations that support diversity and inclusion.
Equipment
Amtrak carried out advanced testing on its new Acela trainsets. Efforts also included gathering necessary data needed to meet regulatory requirements, improving infrastructure and facilities, and developing training so its flagship service's next generation trains can begin carrying customers by the end of 2021. By the end of fiscal year 2020, prototype trains have been tested on the Northeast Corridor and in Colorado, topping 20,000 miles (32,186km) on the test track and reaching a speed of 166.8mph (268.4km/h) at the Transportation Technology Center near Pueblo, Colo. Amtrak's state partners in the Midwest and California have started accepting new railcars that customers will ride in 2021, with touchless features and updated amenities including more space for bicycles.
Stations
Amtrak began refreshing major stations across the country. In the Northeast this includes: upgrading the ticketed waiting area at New York Penn Station, a major construction project that will increase rail capacity at Washington Union Station, working with New York Gov. Cuomo and NJ TRANSIT on the Penn Master Plan and Penn Expansion projects to upgrade and add more tracks and platforms to the existing station, selecting a team with international expertise to form a master development partnership via ground lease for the renovation of William H. Gray III 30thh Street Station, collaborating with New Jersey Gov. Murphy and NJ TRANSIT on construction work at four New Jersey train stations: New Brunswick, Trenton Transit Center, Princeton Junction, and Elizabeth Stations and a construction project to improve accessibility and safety at the Amtrak stop in Ashland, Va.
Infrastructure
As an unexpected positive outcome of COVID-19, Amtrak accomplished additional work in summer 2020 due to reduced train volumes. For example, B&P Tunnel concrete slab, tie, rail replacement work would normally be completed on extended weekend outages. However, an estimated two to three years of work was completed with extended outages during the summer. Additionally, crews accomplished over 20 per cent more Sperry rail testing at night over the Northeast Corridor. Amtrak also took advantage of reduced train frequencies to accelerate data collection efforts in performing LiDAR mapping of infrastructure. What had originally been planned to take four months working around train operations was reduced to three weeks of continuous measuring.  
Accessibility
Amtrak invested a record $109 million on ADA-related design and construction improvement projects at more than 159 locations nationwide, advancing efforts to make stations universally accessible. Accessibility projects just finished include Montgomery, W.Va., and Picayune, Miss., while $29 million in improvements to the platforms and the station is underway in Homewood, Ill., together with Metra.
Technology
Understanding the importance of convenience and contact-free travel, Amtrak improved and expanded its website and mobile platforms. These updates included customers receiving access to information and services on their mobile device, such as gate and track notifications at select stations to reduce crowding around station departure boards, a capacity indicator icon allowing customers to see how full the train is before booking.
Product upgrades
Amtrak launched and expanded several popular programmes to provide customers with improved amenities, including the introduction of the 'carry-on bike programme' on the Pennsylvanian (and the increase of programme for most Northeast Regional departures, and various Northeast State-Supported trains: Keystone Service, Downeaster trains and Amtrak Hartford Line trains), broadened reserved seating to all Acela Business Class and Palmetto, Vermonter, Carolinian and Northeast Regional Business class customers, upgraded bedding, pillows, towels, linens and other goods in private rooms on the Auto Train, expanded the pet programme to allow customers to travel with their dogs and cats up to 20 pounds onboard weekday Acela trains, and debuted the RideReserveSM programme to reduce crowding and provide a more comfortable ride for customers.
Sustainability
Quantified financial impacts to ridership and revenue due to storms and severe weather. Amtrak developed a greenhouse gas GHG emissions calculator comparing the impacts of rail vs other travel modes and identified inundation and flood mapping training with instruction from the National Oceanic and Atmospheric Administration. Annually, Amtrak set targets to reduce GHG emissions, electricity and fuel consumption. Since 2010, Amtrak has reduced emissions by 20 per cent with a target to achieve 40 per cent reduction by 2030 – from 2010 baseline figures.
State-supported services
In partnership with the Virginia Department of Rail and Public Transportation and other stakeholders, Amtrak committed to creating a new passenger-dedicated rail infrastructure between Washington, D.C., Richmond and the North Carolina border to allow for quicker and more predictable trips. Amtrak and partners are making continued progress toward extending 110mph service in Michigan and adding 90mph service in Illinois, both to improve travel times and productivity.
Contract commuter services
Throughout a challenging year marked by operational and fiscal uncertainty, Amtrak worked closely with its contract commuter customers to adapt many aspects of their operations, ranging from the frequency of departures to customer-facing processes, to sustain essential services and provide them with the flexibility they needed.
References:
Fiscal year 2019 ridership previously reported as 32.5 million has been decreased to 32.0 million to reflect an updated company definition of ridership
Unaudited
Includes payments from state partners for state-supported routes.