ABB contributes to the world's first emission-free rail maintenance vehicle
Epiroc has worked with ABB to develop the e-drivetrain for Railcare's battery-powered vehicle for rail maintenance applications.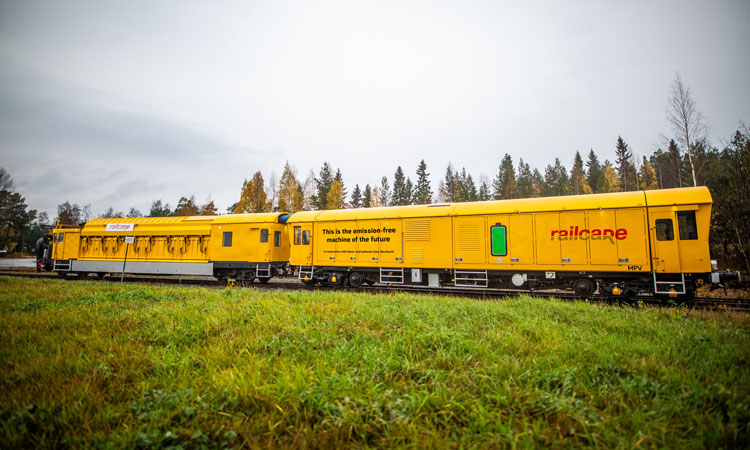 Epiroc worked with ABB to develop the e-drivetrain for Railcare's battery-powered vehicle for rail maintenance applications.
The multi-purpose vehicle offers emission-free, low noise operation that improves the working environment and increases its potential for deployment underground, such as in metro systems and mines.
Railcare, a Swedish manufacturer of machines that keep railways safe and clean, has launched the world's first battery-powered Multi-Purpose Vehicle (MPV) as it aims to become a 'green supplier' for rail maintenance projects. The e-drivetrain for the MPV, developed by Epiroc AB, features ABB's new AMXE liquid-cooled electric motors together with HES880 Mobile Drives.
The MPV is equipped with its own power source, vacuum pumps, hydraulics, and operator cabs. Its battery will provide between four and six hours of power between charges, sufficient for a typical night shift. 
Henrik Nilsson, General Manager for Traction Motors at ABB Motion, said: "This project with Railcare shows how even the heaviest of vehicles can be electrified successfully to help build a sustainable low-carbon future. It is also an important continuation of our work with Epiroc that demonstrates how we lead the way as a provider of critical components for demanding e-drivetrain projects."
Epiroc, one of the world's leading suppliers of underground mining and infrastructure equipment, developed the modular, scalable e-drivetrain platform for the MPV with batteries supplied by Northvolt. The platform features four of ABB's new AMXE heavy-duty electric motors. They feature a compact, permanent magnet, liquid-cooled design that is ideally suited for harsh environments and demanding applications. The motors are controlled by ABB's rugged and versatile HES880 liquid cooled drive that is well proven in traction, marine and auxiliary applications.
Erik Svedlund, Head of Marketing, Rocvolt Business Development at Epiroc, said: "The Railcare MPV project extends the cooperation that started with the use of ABB motors and drives for our new generation of underground mining vehicles. That e-drivetrain concept was designed primarily with the mining industry in mind, but this project illustrates its broader suitability for other types of machines that operate in tough environments and are traditionally powered by diesel engines."
In addition to eliminating the emissions from diesel engines, one of the biggest advantages of the MPV is its reduced noise levels. This is particularly important as rail maintenance vehicles often operate at night in urban environments. The twin advantages of zero-emissions and low noise could also open up new application areas for Railcare, such as long underground tunnels in metro systems and large mines.
The prototype MPV is currently undergoing testing in Sweden, and it is anticipated that it will go into production in 2021. Railcare is planning to build three of the vehicles to replace old diesel-powered vehicles in its fleet for its own operations in Scandinavia and the UK. Later, Railcare will market the vehicles to customers worldwide.