VR Transpoint introduces 1km-long, 80 wagon freight train into service
The train, which will operate between Vainikkala and Hamina in Finland, will enable VR Transpoint to increase the efficiency of its freight transportation services.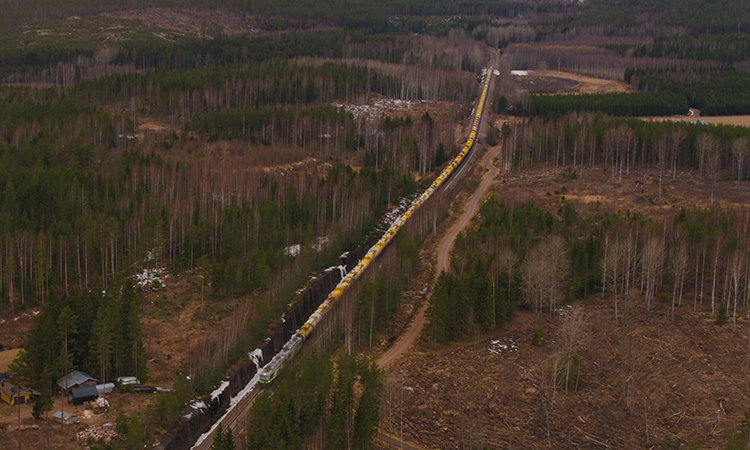 Credit: VR Transpoint
VR Transpoint has once again introduced a new gigantic freight train to Finland's railways. The train, which weighs 7,000 tonnes, has 80 wagons and is approximately one kilometre long. Appropriately named Mörkö (the ogre), the train is pulled by two Vector electric locomotives and operates between Vainikkala and Hamina as part of Finnish transit traffic.
"Since summer 2020, we have tested several 7,000 tonne trains. We now have experience in the operational reliability of such a heavy train in the different conditions of summer, autumn and winter. This is crucial, as we are aiming for the maximum hauling capacity of our new electric locomotive," explains Martti Koskinen, Senior Vice President at VR Transpoint.
The train's name was chosen from suggestions submitted in VR's internal competition. Among the suggestions, the king of freight trains was compared to both a fairytale character and a legendary hockey hero.
The previous Finnish record for tonnage of trains was set in spring 2020. Then, a freight train weighing 6,000 tonnes with 66 wagons was piloted on the Vainikkala to Hamina railway. The 1,000 tonne increase to the train's weight is considerable. When fully loaded, Mörkö is the equivalent of 92 trucks, while its predecessor weighed the same as 79 trucks.
However, the most important thing in increasing train sizes is not breaking records, but reducing energy consumption and emissions in railway transport. Train traffic is already one of the cleanest ways of transporting goods, and the good energy efficiency of train traffic is based on its great freight capacity. The larger the trains, the more freight that they can transport at once. 
With the better hauling capacity of Vectron electric locomotives, VR Transpoint has been able to gradually increase train sizes, which also considerably enhances the freight traffic passing through Finland. Very long freight trains are commonly used in Russia. Previously, those trains had to be divided into several smaller trains in Vainikkala. The promotion of electrically-driven traffic and enhancing axle loads are very important to freight traffic. If VR Transpoint wants to increase train sizes in the future, the load capacity of rail infrastructure must be increased.
"It would be considerably more efficient if we could drive the trains coming from Russia as they are to the harbour. In addition to larger transports, this will positively impact VR Transpoint's competitiveness, and Finnish transit traffic will also be seen as a more competitive option," says Martti.