Track laying at Saih Shuaib towards Abu Dhabi and Dubai inaugurated by Etihad Rail Chairman
Following a visit to the site and a review of the project updates, the Chairman of Etihad Rail has inaugurated track laying at the railhead in Saih Shuaib.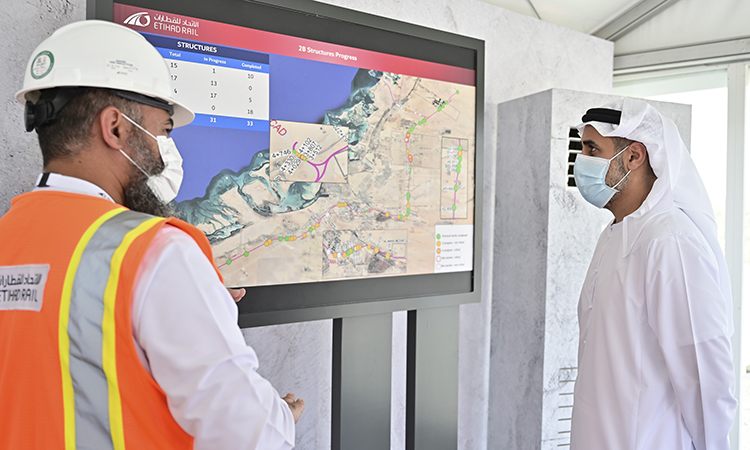 Credit: Etihad Rail - HH Sheikh Theyab bin Mohamed bin Zayed Al Nahyan inspects construction progress at Al Maha rail station, during a visit to Etihad Rail.
His Highness Sheikh Theyab bin Mohamed bin Zayed Al Nahyan, Chairman of the Abu Dhabi Crown Prince's Court and Chairman of Etihad Rail, has inaugurated track laying at the railhead in Saih Shuaib, in the direction of Abu Dhabi and Dubai.
H.H. Sheikh Theyab reviewed the project updates through a journey that he took on an inspection train designated for the supervision and inspection of construction works, from the starting point of track laying in Saih Shuaib towards both Abu Dhabi and Dubai.
During the 10km journey reaching Al Maha Forest, H.H. Sheikh Theyab was briefed on Etihad Rail's procedures and measures to protect the natural habitat and wildlife during the implementation of the project within the forest, including the development of bridges, culverts and animal crossings.
During the visit, H.H. Sheikh Theyab said that the carefully considered and diligent scrutiny of Etihad Rail's wise leadership is immensely valuable for the development of Stage Two of the United Arab Emirate's (UAE) national railway and bolsters the UAE's regional and international positioning. He added that the support of local and federal government stakeholders has been invaluable, as the company continues to support the development goals of the UAE, including those set for the next 50 years.
Additionally, H.H. Sheikh Theyab stressed the importance of the strategic project, which is capable of revolutionising the UAE's transport sector, and emphasised that the network forms a key part of the UAE's world-class integrated transport ecosystem, strengthening the UAE's global leading position in the provision of quality transport infrastructure.
H.H. Sheikh Theyab further accentuated the project's role in supporting the UAE's economic growth, connecting key ports with production and manufacturing points and population, which will positively affect the lives of citizens and residents in the country.
The development of the UAE national rail network, which is one of the largest infrastructure projects in the nation, is on schedule for delivery. The network is significant in providing a modern and sustainable national rail network, bolstering the UAE's leading regional standing.