Flood protection work completed to section of West Coast Main Line
Work on a four kilometre section of the West Coast Main Line has been completed to prevent tracks from flooding and make future journeys more reliable.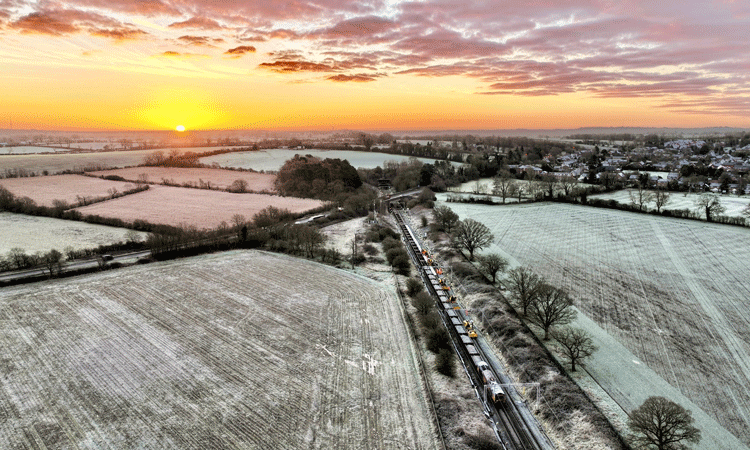 Sunset over Kilsby drainage work on West Coast Main Line. Credit: Network Rail
Major work on the West Coast Main Line through Northamptonshire to prevent tracks from flooding has now been completed.
During a nine-day closure, four kiliometres of railway was improved, making the line more reliable for passengers and freight.
The work included drainage channels being installed and ballast being cleaned to stop heavy rain from flooding the economically important railway link.
A huge ballast cleaning train was used to clear debris from the stone beneath the railway. Cleaning the stones allows rainwater to drain away faster and makes the track more stable.
Commenting on the £2million investment, James Dean, Route Director for Network Rail's West Coast South route, said: "We worked closely with train operators to keep people on the move and now this work is done, this vital section of the West Coast Main Line is better protected from adverse weather for passengers and freight services."
"We know weather-related delays are frustrating for passengers, which makes this work to prevent future disruption caused by flooding very welcome," commented Lawrence Bowman, Customer Experience Director for London Northwestern Railway.
Gus Dunster, Executive Director of Operations and Safety at Avanti West Coast, added: "These improvements will help to better protect the railway from floods, helping to make journeys more reliable for our customers on the West Coast Main Line."