TransPennine Express launches digital info screen at Lockerbie station
Train operator, TransPennine Express, is using digital technology to give customers an improved journey experience.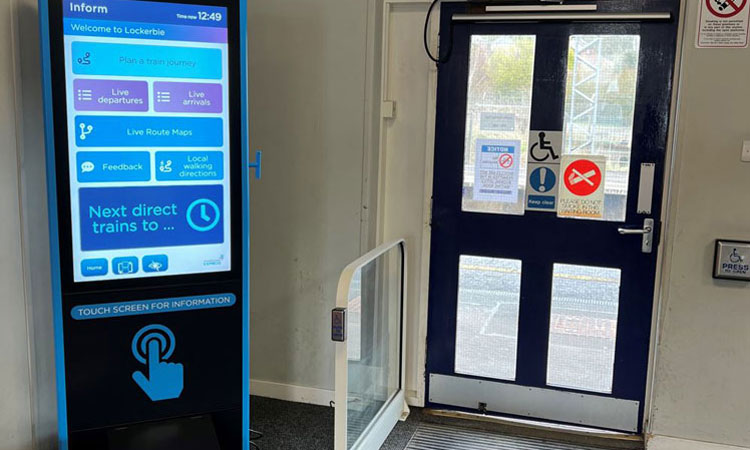 Digital information screen at Lockerbie station. Credit: TPE
Working in partnership with ScotRail, TransPennine Express (TPE) has installed a state-of-the-art digital information screen at Lockerbie's station, designed to give travellers interactive details about trains and services.
The touch screen technology now provides customers in Lockerbie with information including:
Live departures and arrivals
Live journey planner
Live disruption updates
Onward travel information, such as local bus services
Local walking directions.
And, to ensure as many customers can benefit from the new screen as possible, the information can be presented using British Sign Language (BSL), whilst an additional 14 foreign languages will be added to the system in the summer.
Kathryn O'Brien, Customer Service and Operations Director at TPE, said: "Our customers are at the heart of everything we do, and the introduction of the ultra-modern, interactive information screen will give them enhanced details in real-time about our services and destinations. We're committed to enhancing accessibility and ensuring our customers feel confident travelling with us at all times and are extremely proud that we were one of the first train operators in the country to install BSL onto our message boards."
Kathryn continued: "We also know there are a lot of customers for whom English is not their first language and we're doing all we can to meet the needs of our entire customer base. Using data from the Office for National Statistics (ONS), we were able to determine the most common languages used by people along our network and look forward to being able to provide updates for customers in myriad of languages, from Polish to Punjabi."
The installation of this new technology will help to improve the information available to customers and is another step in TPE's commitment to delivering a consistently high journey experience for customers across its network.
For Global Railway Review's 'Access For All' interview series, Chris Jeffery, Accessibility & Transport Integration Manager at TransPennine Express, explains how the operator is passionate about accessibility, and the importance of consulting both their accessibility panels and customers with disabilities to ensure they can deliver a train service that is accessible to all. Read the interview here.