Great Northern introduces more mobile assistance teams
Two new mobile assistance teams have started work in a trial to further support disabled passengers at six small stations in Hertfordshire and north London.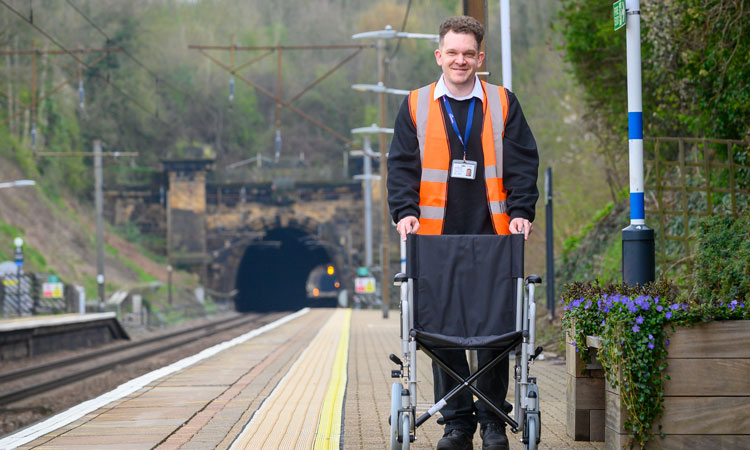 Ross Chapman is one of the mobile team members ready to assist. Credit: Great Northern
Great Northern has added further support for disabled passengers at six stations in Hertfordshire and north London.
Two new mobile assistance teams have started work in the trial. It means support should be available at the stations within 20 minutes every day of the week – weekends included – to board every train that is running. Staff already work on site at many of the stations but only when the ticket office is open.
The teams will be based at Hertford North and Potters Bar stations and cover: Welwyn North (step-free to all platforms); Bayford (step-free to platform 1 only); Watton-at-Stone (step-free to platform 1 only); Hadley Wood (step-free to platform 4); Welham Green (step-free to platform 2 only); and Cuffley (step-free to platform 1 only).
Accessibility for all
The service is intended for anyone who needs assistance getting around the station and boarding a train – whether it be an older person with luggage, someone who is visually impaired or, where platforms are step-free, a ramp to board the train for a wheelchair or mobility scooter user.
Customers request assistance when they arrive at the station, either by contacting the control centre from the station help point, using the 'emergency and assisted travel button', or by calling  or texting.
The mobile assistance teams will drive to the nine stations, aiming to arrive within 20 minutes, to help the customer board the train and notify the destination station of their arrival. On the customer's return journey, the mobile assistance team will be there to greet the customer off the train.
If passengers prefer, they can book the mobile assistance team further in advance by contacting the assisted travel team online or by phone.
Great Northern's Accessibility Lead, Carl Martin, said: "We're constantly looking for ways to improve the level of service we give people who need assistance, to overcome the barriers that prevent independent travel on the railway. These new mobile assistance teams could transform the lives of many of our customers. It will help us create a more accessible and inclusive railway, where everyone has the confidence to travel with us."
Have you seen the exclusive interviews as part of Global Railway Review's Access For All series?
Look out for other interviews over the coming weeks; participants will include DSB, ProRail, Avanti West Coast, Hull Trains, and many more!
If you would like to take part in the Access For All interview series, or would like to nominate a colleague, please email: Craig Waters, Editor, Global Railway Review.