Construction of UK National Training Academy for Rail complete
Construction of new facilities housing the National Training Academy for Rail has been completed ahead of its official opening in autumn 2015. The National Training Academy for Rail (NTAR) will shortly welcome new students for training in traction and rolling stock thanks to a joint partnership between the National Skills Academy for Railway Engineering (NSARE) […]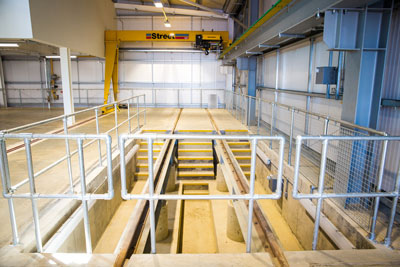 Construction of new facilities housing the National Training Academy for Rail has been completed ahead of its official opening in autumn 2015.
The National Training Academy for Rail (NTAR) will shortly welcome new students for training in traction and rolling stock thanks to a joint partnership between the National Skills Academy for Railway Engineering (NSARE) and Siemens.
NTAR was established due to an immediate need to train workforce for the maintenance of new Thameslink rolling stock and a general necessity to address traction and rolling stock training of wider market.
Construction of the Northampton based facility began in July 2014 with the installation of a large fully-fitted workshop, state of the art virtual reality suite, ERTMS / ETCS room, digital railway room and an area dedicated to railway electrification.
NTAR General Manager, Simon Rennie, commented on the build completion: "This is a really exciting time for NTAR. The physical building is now complete and we can move to the final stage before opening – fitting out the interior, installing the remaining state of the art training aids and equipment and run-throughs of the training courses and programmes on offer.
"We are on time and on budget, a real achievement within such a short build timeframe, and are looking forward to the formal opening in the autumn. Our first intake of students from South West Trains is due in October and the Rail Engineering Apprenticeship Group are also set to make full use of the facility that month."
NTAR will offer 20,000 man days of training per year and will act as a national 'hub' with regional centres located at other train care facilities around the country. The bespoke facility will combine the use of unique hands-on equipment and workshop facilities in addition to classroom-based teaching using cutting edge technology.
A public/private agreement between NSARE and the Department for Business, Innovation & Skills (BIS) with support from the Department for Transport (DFT) has provided half the funds required to build NTAR, with Siemens contributing the other 50 percent.
Related topics
Related organisations