Additional Coradia Polyvalent trains for Midi-Pyrénées region
Alstom is to supply eight additional Régiolis or Coradia Polyvalent trains to the Midi-Pyrénées region following an initial order for 25 trains in 2009. The contract, worth €46 million, will supply 8 additional Coradia Polyvalent suburban version trains for service in the Midi-Pyrénées region of France. The first of the 25 vehicles ordered in 2009 […]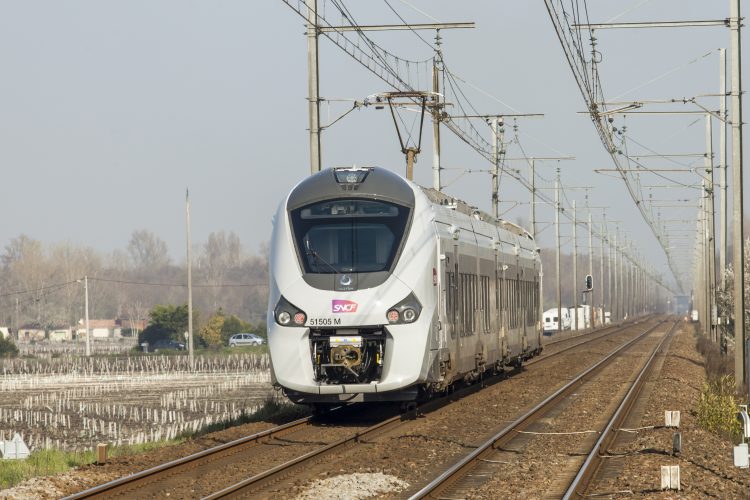 ©ALSTOM Transport TOMA – R. Nourry
Alstom is to supply eight additional Régiolis or Coradia Polyvalent trains to the Midi-Pyrénées region following an initial order for 25 trains in 2009.
The contract, worth €46 million, will supply 8 additional Coradia Polyvalent suburban version trains for service in the Midi-Pyrénées region of France. The first of the 25 vehicles ordered in 2009 entered commercial service in July 2014 on the lines that link Toulouse with Latour-de-Carol and Mazamet.
The eight additional Régiolis or Coradia Polyvalent trains consist of four cars and have double the number of doors compared to their regional counterparts, assisting passenger flow. Upon request by the Midi-Pyrénées region, the trains have been fitted with specific equipment such as passenger counting systems, dedicated storage space for bicycles and luggage, and front-panel displays showing the destinations.
Commenting on the new order Ana Giros, Managing Director Alstom Transport France, said: "This new order is excellent news for the French rail industry and for Alstom Transport's sites in France. It symbolises the region's renewed confidence in Alstom and its products."
The Régiolis, part of Alstom's Coradia range, can be adapted for suburban, regional and intercity usage and is available in three lengths; 56, 72 and 110 metres. According to Alstom, Régiolis is both ecological and economical thanks to its low energy consumption in compliance with the latest emission standards. Equipped with ERTMS technology, Régiolis is the first regional train in France to conform to all European standards.
Six of Alstom's twelve sites are involved in producing Coradia Polyvalent trains; Reichshoffen for the conception and assembly, Ornans for the motors, Le Creusot for the bogies, Tarbes for the traction chains, Villeurbanne for the on board electronics and Saint-Ouen for the design.
Related topics
Related organisations
Related regions