Hyperloop One announces the strongest Hyperloop routes in the world
Hyperloop One has announced the winners of its Hyperloop One Global Challenge to identify the strongest new Hyperloop routes in the world.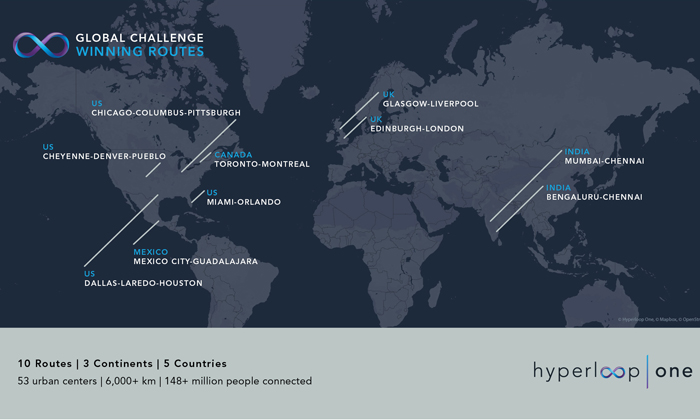 Following an assessment of the proposals set by a panel of experts in infrastructure, technology and transportation, ten teams from five countries were chosen from hundreds of candidates. The company will now commit business and engineering resources and work with each of the winning teams/routes to determine their commercial viability.
"The Global Challenge became a movement of thousands of people from more than 100 countries over six continents," Shervin Pishevar, co-founder and Executive Chairman of Hyperloop One. "Like us, they believe that Hyperloop will not only solve transportation and urban development challenges within communities, it will unlock vast economic potential and transform how our cities operate and how we live. Our successful test this summer made Hyperloop a reality, and now we're ready to bring our Hyperloop system to the world."
Hyperloop One will host in-country workshops with each team, and connect them with its global partner network to sharpen the feasibility and scope of the potential routes.
The winning routes connect 53 urban centres and nearly 150 million people representing Canada, India, Mexico, the United Kingdom and the United States. Their combined distance spans 6,628 km (4,121 miles).
The winning routes are:
Route

Length (km)

Length (miles)

Urban Centers

Population

US Chicago-Columbus-Pittsburgh
Team: Midwest Connect

785

488

3

13,800,000

US Dallas-Laredo-Houston

Team: Texas Triangle

1030

640

5

18,771,000

US Cheyenne-Denver-Pueblo

Team: Rocky Mountain Hyperloop

580

360

10

4,831,000

US Miami-Orlando

Team: Miami/Orlando Hyperloop

414

257

2

8,500,000

India Bengaluru-Chennai  

Team: AECOM India  

334

208

6

17,710,000

India Mumbai-Chennai

Team: Hyperloop India

1102

685

10

43,190,000

UK Edinburgh-London

Team: HypED

666

414

4

19,151,514

UK Glasgow-Liverpool

Team: Northern Arc

545

339

6

9,715,488

Mexico Mexico City-Guadalajara

Team: Mexloop

532

330

4

33,530,000

Canada Toronto-Montreal

Team: HyperCan

640

400

3

13,326,000
A further result of the Global Challenge is a public private partnership with Hyperloop One and the Colorado Department of Transportation (CDOT), with support from AECOM, to begin a feasibility study in Colorado. The study will examine transportation demand, economic benefits, proposed routes and potential strategies, regulatory environments and alignment with overall CDOT high-speed travel, rail and freight plans.
"We're… excited about the partnership with CDOT and AECOM, which was a direct result of the Global Challenge and a testament to the power of open innovation," added Rob Lloyd, CEO of Hyperloop One. "This is unprecedented and demonstrates how quickly the public-private sectors can partner to make Hyperloop systems a reality around the world. Studies like this bring us closer to our goal of implementing three full-scale systems operating by 2021."
Related topics
Related organisations