Metrolink's new Tier 4 clean locomotives enter service
Metrolink's new Tier 4 locomotive, the cleanest fuel-powered locomotive in the US, has made its debut in passenger service.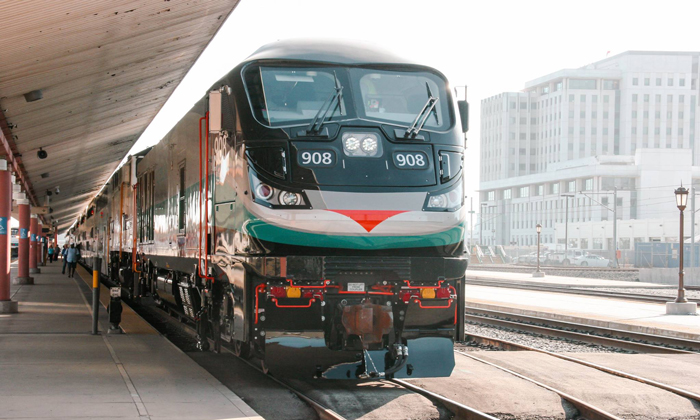 Credit: Metrolink Facebook
The first of 40 Tier 4 locomotives rolled into service on the San Bernardino Line, Metrolink's busiest line, which extends from Los Angeles to San Bernardino. These trains will rotate throughout the system to ensure that the entire region benefits from these new clean locomotives.
"These locomotives are a success story of what can happen when transportation agencies, elected officials and members of the community work together," said Metrolink Board Chairman Andrew F. Kotyuk. "With over 30 letters of support and 11 funding sources, these locomotives are the result of a regional partnership that will benefit all of Southern California."
The new Tier 4 locomotives reduce emissions by up to 85% compared to the other locomotives operating throughout the region and they also have up to 64% more horsepower, which will enable Metrolink to transport more people reliably.
They are enhanced with the latest Positive Train Control and Crash Energy Management technology and, the new engines have enhanced on-board engine diagnostics and are expected to reduce delays caused by mechanical issues on trains.
"Metrolink connects Angelenos with communities across Southern California – we're making that service more sustainable than ever before," added Los Angeles Mayor Eric Garcetti. "These powerful, fuel-efficient locomotives will make travel across our region better for the environment and easier for riders."
The new fleet of new cost $279 million, with Metrolink receiving funds from federal ($21 million), state ($132 million) and regional ($110 million) and local ($17 million).
Air Quality Management District's Carl Moyer and the State's Cap and Trade programs were the two largest sources of funds.
"Reducing air pollution in California means aggressively cutting down on emissions in every industry," explained California State Senate President pro Tempore Kevin de León (D-Los Angeles). "Using funds made available by my bill, SB 535, these low-emission locomotives will help keep our environment clean and improve public health."
Metrolink will add the new locomotives into service over the next months until all 40 are in service by the end of 2018.
Related organisations
Related regions