Network Rail eradicate bumpy rides for Chiltern Railways' passengers using Japanese method
Network Rail's recent stabilising work to the Chiltern main line has been displayed in full technicolour via recently released time-lapse footage.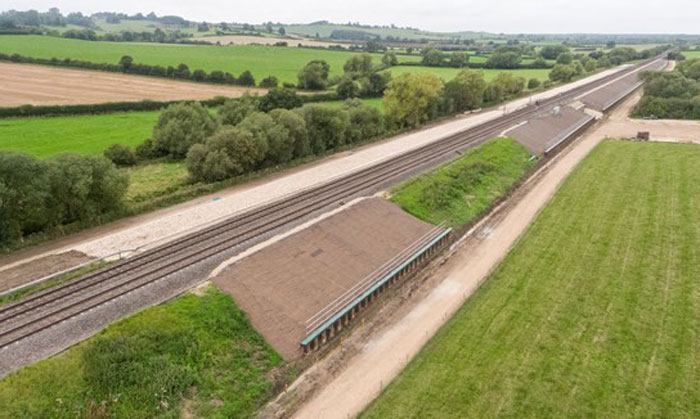 Employing a Japanese technique that utilised a Giken silent piling machine to drive 865 six-metre steel sheet piles into the ground, the scheme took 12 weeks to complete between May and August this year.
Forming rows either side of the railway at Bridge Farm near Aylesbury, Buckinghamshire, the works used 27,000 tonnes of stone and 1,000 tonnes of topsoil to build up the embankment that has been experiencing subsidence – with a need for frequent temporary repairs – in recent years. This efficient cost-saving operation not only provides a permanent solution to the bumpy ride syndrome that passengers have experienced, but also eliminates a potential cause of train derailment.
Japanese technique saves money
Commenting on the Japanese technology they used, Mark Evans, Works Delivery Programme Manager on Network Rail's London North Western route, said: "The Giken machine grips the neighbouring steel sheet pile and silently uses it to lever in the next one, and so on. It's simple, safe and saves taxpayers' cash – exactly how we like it."
"By using this innovative Japanese piling method we got the job done quicker and cheaper than traditional kit would have allowed."
Alan Riley, Customer Services Director for Chiltern Railways, added: "We are delighted with this innovative solution as it has clearly delivered a value-for-money result and most importantly enhances the travelling experience for our customers. The work embraces a 'think different' approach to ensure the project has been completed in a timely manner (with) quality output and with the customers at the heart of this."
The three-month Network Rail scheme, from May to August this year, cost £2.9m.