Arriva signs contract for world's first zero-emission train for partially electrified tracks
Arriva – a leading pan-European passenger transport company – has signed a contract with train manufacturer Stadler for the construction of 18, world-first zero-emission trains suitable for use on partially electrified tracks. The total contract value amounts to €170 million for trains in the north of the Netherlands.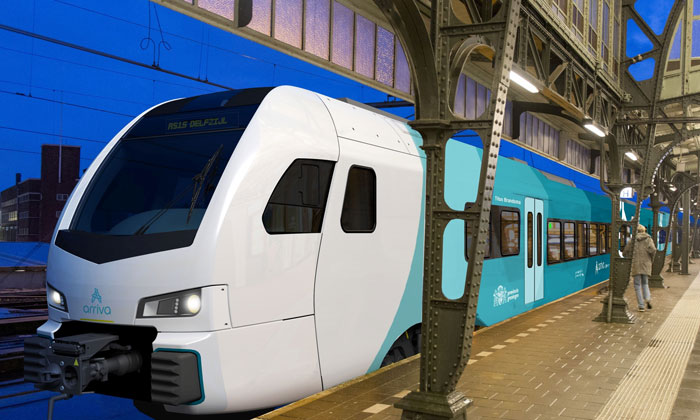 The Flirtino is a flexible train that – once partial electrification is finished – can be transformed from a HVO (Hydrotreated Vegetable Oil) hybrid diesel train into a zero-emissions train that uses partial electrification to charge batteries that keep the train running on the parts of the tracks without electrification. This train is the first of its kind in the world that combines regenerative technology with an HVO engine that can be replaced with an extra big battery for non-electrified parts of the track.
Partial electrification is a cost-effective option to reach zero-emissions operation for railway lines where it is not possible or the business case cannot be made to deliver full electrification. This is often the case on railway lines where there is a high number of bridges and viaducts. The Flirtino is the first Zero-Emissions train to run in the world that runs on only partially electrified railway lines and the first train that runs on HVO until partial electrification is finished.
The Flirtino train formed part of Arriva's successful bid for the Northern Lines contract in the Netherlands in July 2017, and the first trains on HVO will be introduced in 2020. It is expected that construction of partial electrification can be finished in 2025 after which the trains will be transformed into zero-emissions trains. In addition to the 18 brand-new zero-emissions trains, the existing 51-train fleet is being completely renovated and also equipped with advanced battery packs. This creates a complete fleet of 69 hybrid trains.
Commenting on the announcement, Arriva Group CEO Manfred Rudhart, said: "As one of Europe's largest transport operators, we are proud to be delivering into service world-first Flirtino trains for our Dutch customers. This is a major step towards creating a future where transport across Europe is cleaner, greener and more sustainable. Our investment in these new green technologies shows our commitment to ensuring that the environment remains top of the transport agenda across our operations in mainland Europe – an area which is an important growth engine for Arriva."