Alstom delivers the first overhauled BB36000 locomotive to Akiem
With a new contract in place, Alstom is helping its customer Akiem extend the lifespan of their locomotives by 15 years…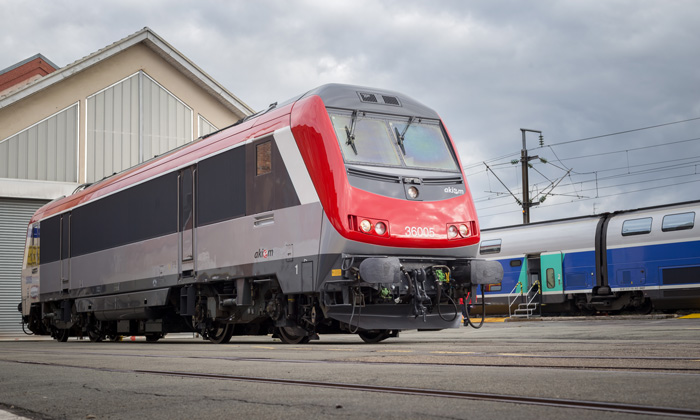 Credit: Alstom
On 28 November 2017, Alstom, a world leader in integrated transport systems, delivered the first overhauled BB36000 locomotive out of a total of 7 vehicles covered by a mid-life overhaul contract signed on 22 April 2016. Concerning the heavy maintenance of the locomotives, the contract was later supplemented in June 2017 with 23 additional locomotives of the same type.
The BB36000 locomotives are under the responsibility of the services team of Alstom's site at Belfort; where they were designed and manufactured. They entered service from 1996 onwards and have covered nearly 2 million km to date. With this new contract, Alstom is helping its customer Akiem to extend the lifespan of their locomotives by 15 years.
The maintenance operations cover all the 10, 15 and 20-year interventions in the context of a mid-life review. The entire locomotive is overhauled, including the bogies, obsolescence monitoring, the repair of parts and the modernisation of the drivers' cabins. These operations are being carried out with the contribution of Alstom's sites at Le Creusot (for the bogies), Ornans (for the traction engines), Tarbes (for the traction systems) and Villeurbanne (for the electronics) as well as a network of external subcontractors. The locomotives are also fully repainted in identical fashion to restore their original external livery.
At Alstom's site in Belfort, a multidisciplinary team of about twenty people (cable fitters, pneumatics experts, assemblers, painters and metalworkers) are involved in the project; requiring various skills including engineering, industrialisation, purchasing, logistics, production and testing.
"The delivery of the BB36000 locomotive in line with the schedule and level of quality required by our customer Akiem is due to the Belfort Services team's expertise. This first success confirms our desire to develop the maintenance activities of the Belfort site through an increase in activities and skills and to turn the Belfort site into a European centre of reference for locomotive maintenance," said Jean-Baptiste Eyméoud, President of Alstom in France.
The service activities of the Belfort site currently employ approximately 70 people and are organised around the following five activities: operational maintenance of locomotives, accident repair for all types of rolling stock, mid-life overhauls of locomotives, modifications during the warranty period and upgrades to diesel and electric locomotives. Thanks to its extensive experience in maintenance, the Belfort Services department became the first private locomotive maintenance provider in France to obtain ECM certification (Entity in Charge of Maintenance) in all 4 domains (supervision, development, fleet management and execution).